Things You'll Need
Fabric

Cardboard or wax paper

Stencil or pattern

Charcoal pencil, chalk pencil

Paper towel

Pin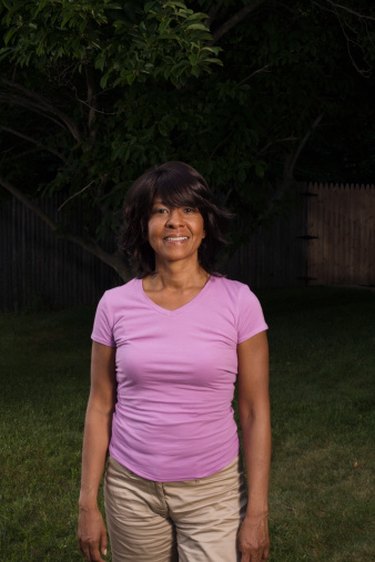 Tulip fabric paint is a well known brand that comes in many colors and does not require heat setting; that is, the paint bonds to the fabric while you work and does not require setting. Due to its simplicity of use, painting designs with fabric paint is a suitable craft for both children and adults. Tulip Dimensional Fabric Paint allows you to trace thin lines over a pattern and thus makes a good choice for a beginner.
Step 1
Wash and dry your fabric. Fifty-fifty cotton-and-polyester blends work best for this type of fabric paint.
Step 2
Put your fabric on a flat, protected surface. If you are painting clothing, such as a shirt, put a piece of cardboard or wax paper inside to prevent the paint from bleeding through and staining the other side.
Step 3
Transfer your design to your fabric by tracing inside the stencil or around the pattern. If you are using light fabric, use a charcoal pencil or disappearing-ink pen to trace your design. If you are using dark fabric, use a chalk pencil or a piece of chalk if your design is not complex.
Step 4
Tap the bottle of paint you want to use firmly on your work surface, cap down, then remove the cap and squeeze a little paint out of the tip onto the paper towel. This step clears out the tip and removes air bubbles while giving you a feel for the paint.
Step 5
Hold the paint bottle the way you would a pencil, and trace over the lines on your pattern. Work in short strokes, tracing about 3 or 4 inches at a time, stopping and then starting again where you last stopped. If air bubbles form, quickly pop them with a pin and go over the area again if needed.
Step 6
Wait 24 hours before wearing painted clothing or working with painted cloth. Your work is safe to wash after 72 hours, using warm water on a gentle cycle.
Tip
Tulip makes several kinds of fabric paint. If you want to cover a large area, try filling in your outlines with Tulip So Soft Fabric paint, which brushes on, or Tulip Fabric Spray Paint, which sprays on.
Store your paint upside down to prevent air bubbles from forming in the tip.
Experiment. You can use Tulip fabric paints to adhere small objects, such as rhinestones, or to achieve a variety of different effects. If you don't feel confident with a technique, try practicing on a paper towel.