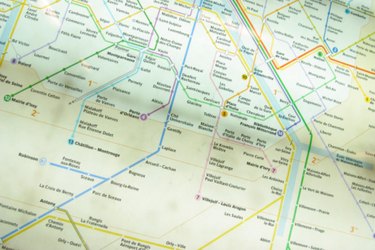 Planning your first trip to New York City? The subway is a cheap and reliable way to travel to every part of the city. If you've never taken the subway, it might seem intimidating or confusing. Familiarizing yourself with a map of the subway system before your trip can help you get around smoothly. With a little preparation in advance, you'll soon navigate the subway with ease.
To get a free map of the NYC subway system, you can download or request a copy from the Metropolitan Transit Authority's website.
Print at Home
Step 1
Ensure that your computer has Adobe Reader version 6.0 or later. If you need to dowload Adobe or update your version, go to get.adobe.com/reader. Click "Download Now" and follow the prompts.
Step 2
Go online to mta.info/nyct/maps/submap.htm. Click on the letters "PDF" above the map. This will open the map as a PDF.
Step 3
Click the printer icon in the upper left-hand corner. Adjust your printer settings if needed and click "OK."
By Mail
Step 1
Go to mta-nyc.custhelp.com/cgi-bin/mta_nyc.cfg/php/enduser/ask.php. Enter your email address.
Step 2
Select "NYC Transit Subway" in the "MTA Service" drop-down menu. In the "Category" drop-down menu, select "Information Request." In the Subject line, enter "Request for subway map."
Step 3
Write a short email requesting a map by mail. Omit long explanations and keep it as brief as possible. Include your home address and your full name in the email. Click "Continue."
Step 4
Enter your first name, last name and zip code, and confirm your email address. Click "Next."
Step 5
Click "Send Email." Jot down your email's reference number. Replies can take up to 15 business days.
Tip
Once you're in New York City, you'll find subway maps posted in the entrance and exit of every subway station. You can request a map from an attendant in a subway booth, too. You can also download free iPhone and iPad Touch applications that provide subway maps.