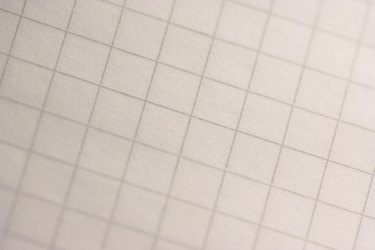 If you need a photo on graph paper for a craft project, then you can print it on the paper using your home printer. One might need a photo on graph paper in order to divide the photo into equal dimensions. The grid lines covering the photo will meet this need. You can load graph paper into your printer as long as it fits the same dimensions of standard computer paper -- 8.5 X 11 inches.
Step 1
Load your graph paper in the printer tray of your printer.
Step 2
Open Microsoft Word. A new word processing document will pop up on your screen. Click "Insert," followed by "Picture." Select the photo you would like to print from the choices listed on the menu. Double-click the file. It will be transferred to your word document.
Step 3
Click the "Office Button" in the top left-hand corner of the screen. Scroll down, and click "Print." When the printer menu pops up, click "OK." Your photo will print on the graph paper.
Tip
Graph paper is double-sided, so it does not matter which side you load facing up in the printer.
Warning
Sometimes graph paper comes on a tablet. Make sure the pages are not sticking together once you pull them off the tablet, and place them in the printer tray.