Things You'll Need
Goggles

Gloves

Mask

Malathion 50

Water

Garden sprayer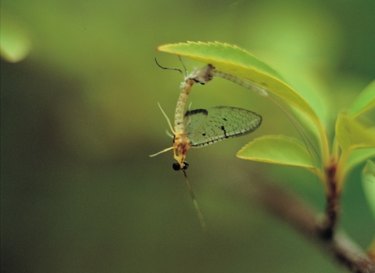 Garden insects can be real pests to humans, but they are even more devastating to garden plants. Fortunately, you can get rid of these pesky insects with a product called Malathion 50. The active ingredient, Malathion, controls such pests as aphids, spider mites, mosquitoes, mealy bugs, Japanese beetles and white flies. Whenever you use Malathion 50, follow all of the instructions for effectiveness and safety.
Step 1
Put on a pair of goggles, gloves and a mask for protection before using Malathion 50. Malathion is a strong chemical hazardous to humans.
Step 2
Remove pets, children, toys and outdoor furniture from your garden before mixing and using the spray. In addition to being hazardous to humans, Malathion is also harmful to pets.
Step 3
Mix the Malathion 50 at a rate of 3 teaspoons to every 1 gallon of water in a garden sprayer.
Step 4
Spray a fine mist of your Malathion 50 mixture throughout the garden to kill the insects.
Tip
Call 877-800-5556 if you have an emergency while using Malathion 50.
Completg the application only when no rain is forecast for a full 24 hours.
Warning
Do not use Malathion 50 near bodies of water.