Things You'll Need
Hose

Dash-bond mix

Large bucket

Notched trowel

Wheelbarrow

Shovel

Stucco mix

Plasterer's rake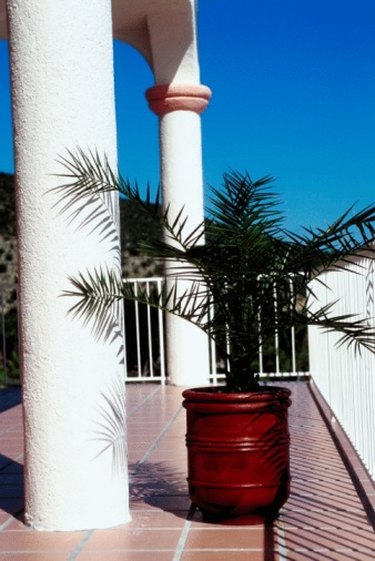 Columns give a majestic and stately look to any home. However, old brick and cement columns reach a point where they need a face-lift. Making new stucco columns from old existing cement or masonry columns is a simple and inexpensive project that gives a clean and updated look to a house front. Stucco mixtures come in a wide range of colors. Texturing tools such as rollers and stippling sponges allow you to customize column surfaces.
Step 1
Spray the column with water, using a hose, to remove any surface dust and dirt.
Step 2
Mix the dash-bond mixture in a large bucket with water to form a paste of a consistency that will stick to the column surface, following the manufacturer's package directions. Apply a 1/8-inch coat of dash-bond paste to the column surface, using a notched trowel for spreading. Allow the dash-bond to dry thoroughly.
Step 3
Mist the column surface with water prior to applying the base stucco coat, using a hose, to keep the stucco from drying too quickly and cracking.
Step 4
Use a wheelbarrow and shovel to prepare the stucco mixture by combining the dry stucco ingredients with water until the mixture is a uniform color and is the the consistency of thick paste, following the manufacturer's instructions. Apply a 3/8-inch base, or scratch coat, to the column using a notched trowel. Allow the stucco to dry for an hour.
Step 5
Use a plasterer's rake to create random score lines in the stucco. Scratch lines in the damp stucco base coat to ensure proper adhesion of the second stucco coat. Allow the base coat to dry slowly by misting it with water every couple of hours.
Step 6
Mist the dried stucco base with water using a hose. Evenly apply a second 1/8-inch coat of the stucco mixture over the base coat. Mist the stucco frequently, allowing the moisture to evaporate slowly until it is completely dry.
Tip
All items needed for this project are available at home improvement centers. The staff will answer any questions regarding items or amounts required for the project. If making column frames from wood, nail steel mesh over building paper on the wood before applying three coats of stucco. If you are planning to paint the stucco, wait five weeks to allow all moisture to evaporate. Use a latex primer and latex paint. Dash-bond is a cement-rich mixture used in place a bonding agent. The high cement content of the dash-bond leaves a rough texture when dry, which makes an excellent bond for the first stucco coat. Ask the staff at the home improvement center to recommend an appropriate bonding agent based on your existing column surface. To create your own stucco mixture, combine eight parts clean, damp sand, one part masonry cement and one part Portland cement. Masonry cement is typically a combination of hydrated lime and Portland cement.
Warning
Plan to apply the stucco on a cloudy or overcast day, if possible. The ideal temperature for applying stucco is between 50 and 80 degrees Fahrenheit. Excessive heat can dry stucco quickly, causing cracking. Excessively cool temperatures make the stucco stiff and hard to trowel.