Things You'll Need
4' x 3' sheet of plywood

Table saw

Circular saw

Jointability

Paper or cardboard

Tacks

Nails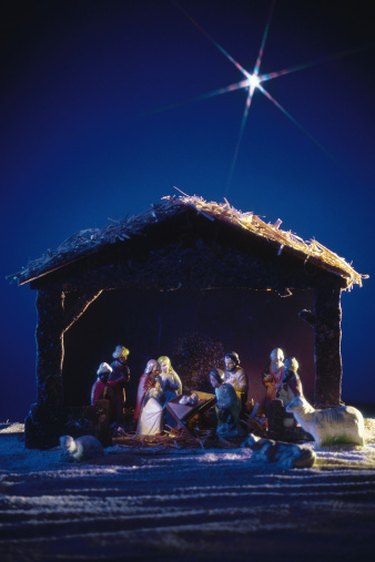 Build a life-size sheep silhouette for your nativity scene using plywood and a saw. Sheep silhouettes can be made out of plywood, cardboard or sheet metal. Further details can be added to the sheep silhouette by painting eyes, a nose and wool or adding paper mache or cotton balls for a wooly texture. Sheep silhouettes can be used in skits, placed in your front yard as lawn decor or used as a farm sign.
Step 1
Draw an outline of a sheep onto a large piece of newsprint paper or cardboard. Cut the outline and use as a stencil on the plywood.
Step 2
Use a table saw and cut a sheet of plywood into a 4' x 3' rectangle.
Step 3
Attach the stencil to the plywood by pinning it with tacks or small nails.
Step 4
Insert the plywood into the Jointability. Use a circular saw and carefully cut around the stencil.
Step 5
Cut two 12-inch spikes from the extra plywood and attach them to the legs. Place the spikes six inches up on the leg, leaving the other six inches for sticking into the ground.
Tip
Cut out the sheep from a large piece of cardboard and decorate with paint or paper.
Warning
Wear safety glasses to protect your eyes.