Things You'll Need
(10) 6-inch flour or corn tortillas

Enchilada filling, such as shredded chicken or cheese

13-by-9-inch baking dish

1 1/2 cups homemade or bottled taco sauce

1 or 2 cups of shredded cheddar or Monterey jack cheese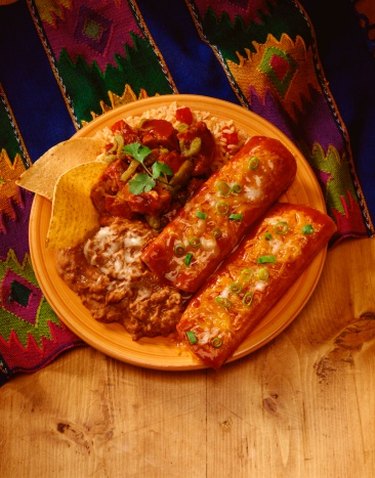 If you only have taco sauce on hand, don't let that stop you from making enchiladas. Enchiladas are traditionally topped with a spicy red sauce consisting of tomato sauce, flour, chili powder, cumin and garlic powder. Taco sauce is also red and spicy, but it can be made with a combination of fire-roasted tomatoes, chilies, adobo sauce, garlic and oregano. Don't be afraid to top your enchiladas with taco sauce as a creative twist.
Step 1
Fill 10 6-inch corn or flour tortillas with your favorite enchilada ingredients, such as shredded beef or chicken, seafood or cheddar cheese. Roll the tortillas tightly and place them seam-side-down in a 13-by-9-inch baking dish.
Step 2
Preheat your oven to 350 degrees Fahrenheit.
Step 3
Pour 1 1/2 cups of homemade or bottled taco sauce evenly over the enchiladas. Sprinkle the tops of the enchiladas with one or two cups of shredded cheddar or Monterey jack cheese.
Step 4
Place the enchiladas on the oven's center rack and bake them for 20 minutes, or until the cheese is melted and the sauce is bubbly. Serve immediately.