Things You'll Need
Block of wood

Nail

Hammer

Hand drill

Saw

Sand paper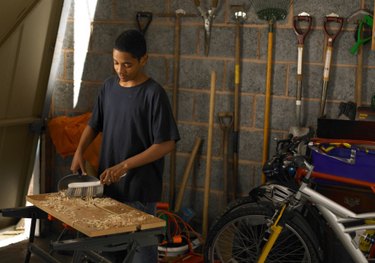 Dugouts are small carrying boxes constructed to hold a one hitter pipe and a small amount of tobacco or smoking herbs. Dugout pipes are especially useful to conceal your tobacco or herbs to smoke on the go. Dugouts are usually constructed of wood, and hold a one hitter pipe made of metal or ceramic. Dugouts are small enough to carry in pants or a shirt pocket. You can create your own dugout pipe at home with a small block of wood and a few household tools
Step 1
Select a small block of wood at least four inches along each side.
Step 2
Cut the block of wood in half using a table saw. If no table saw is available, a hand saw can be substituted. Discard one half, and cut one half inch from the longest side of the remaining block to create the top and the bottom of the dugout.
Step 3
Drill two holes downward into the bottom portion of the dugout without penetrating completely through the wood. Leave enough diameter to fit the one hitter pipe in each hole. Make one hole slightly bigger than the other.
Step 4
Attach the top of the dugout by hammering a small nail directly between the drilled holes in the bottom portion of the dugout. Twist the top portion of the dugout to expose the two holes. Insert the pipe into the smaller hole, and twist the top shut to conceal the pipe.
Step 5
Sand the edges of the dugout until smooth.
Tip
Use quality hardwood to make the most durable dugout.
Warning
Always wear protective eyeglasses when operating wood cutting machinery.