Things You'll Need
8 1/2 lb. prime rib

Six garlic cloves

2 tbsp. onion powder

1 tbsp. fresh thyme

1 tbsp. fresh rosemary

1 tbsp. fresh black pepper

Butter

Olive oil

Small bowl

Sharp knife

Cutting board

Roasting pan

Aluminum foil

Paper towels

Meat thermometer

Carving knife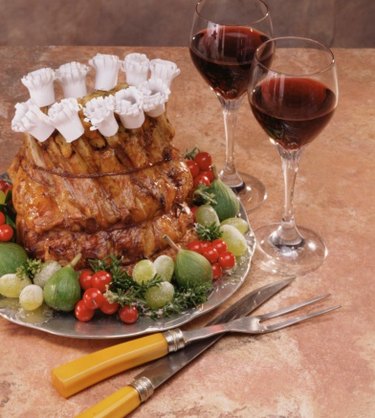 Cooking a perfect prime rib or standing rib roast can be achieved at home according to your tastes and desires. Visit your local butcher shop or grocery store and select a roast large enough to suit your needs - count on 1 pound of meet per person served. Create a delectable roast for your next family gathering or for a special night in. The flavors of prime rib roast can be manipulated with rubs, marinades and sauces.
Step 1
Preheat the oven to 450 degrees F.
Step 2
Bring an 8 1/2 pound prime rib to room temperature and pat it dry with paper towels.
Step 3
Spread butter on the cut ends of the prime rib. Soften the butter prior to spreading it to make it easier to use.
Step 4
Create a paste of six garlic cloves by finely mincing them and crushing them with the back of a knife. Blend the garlic paste with 2 tbsp. onion powder, 1 tbsp. fresh black pepper, 1 tbsp. fresh thyme, and 1 tbsp. fresh rosemary in a small bowl.
Step 5
Add enough olive oil in with the herbs and spices to create a thin paste.
Step 6
Spread the herb paste onto the prime rib avoiding the cut ends where you spread butter.
Step 7
Make a series of 1/2-inch cuts on the top and sides of the roast using a sharp knife. Place the roast in a roasting pan fat-side up and bake in a preheated oven for 15 minutes. Reduce the oven temperature to 325 degrees F and roast for 1 1/2 to 1 3/4 hours.
Step 8
Check the internal temperature of the roast. Make sure the thermometer doesn't touch bone or it will give off a false reading. It should register 120 to 125 degrees F. Remove the roast from the oven and allow it to rest for 20 minutes before slicing - the roast will continue to cook while resting and the temperature will rise another 10 degrees F.
Tip
Prime rib should be served medium-rare to rare.
Do not mix salt in with your rub as it will pull moisture out of the meat.
Serve your prime rib with a horseradish sauce. You can also rub your roast with horseradish prior to roasting, if desired.