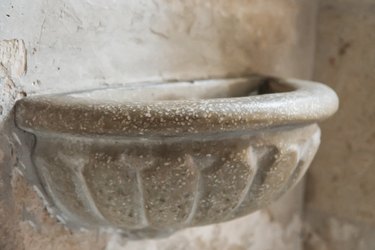 Whether you're planning a wedding or need Christmas decorations for church, lots of people are going to see the fruits of your labor. The sanctuary is also a sacred part of the building and is meaningful to parishioners. That's why it's crucial to do a good job decorating a church sanctuary. Using expert advice, you can tastefully and respectfully decorate a church sanctuary for any occasion.
Add a Garland on the Altar
One of the best ways to add decorations to a church sanctuary for any occasion is to use a garland directly on the altar. Start with greenery. Use evergreen for Christmas but for other holidays and events, you can use ivy or other greenery if you prefer. Your green garland should extend at least the length of the altar itself. Aesthetically, it's also pleasing to leave a foot or even a bit more hanging off both ends. Just be sure that the overhang is even on both sides.
Before you display the garland, add flowers and other decorations. Use a simple color scheme. Red, gold and white look beautiful against the evergreen. If you're designing Christmas decorations for church, add red flowers, especially poinsettias, as well as ornaments, like balls and stars. If you're decorating for a wedding, match the flower colors in the garland to the wedding colors. The garland should be stable to sit on the altar but add removable hooks and tie it down with string if you want to secure it.
Another beautiful way to decorate a church is with flowers. For religious followers, flowers are part of God's beautiful creation, so bringing them inside the sanctuary is more than appropriate.
Put flowers in simple vases to display on the various surfaces around the sanctuary other than the altar. You can also use large, stately urns and put flowers in them. Real flowers are best for a wedding or another single-day event if they're in your budget. Real flowers can be significantly more expensive than fake ones.
For Christmas or other season-long celebrations, you may need to use fake flowers so that they last without wilting or needing a lot of maintenance. You can buy tasteful and real-looking false flowers at craft stores or online.
Pew Decorations and Christmas Window Decorations
Adding decorations to the ends of the pews is a beautiful way to carry the festiveness throughout the sacred space. You can tie large bows, especially for weddings, in matching colors or use plain white. You can create pew decorations with a sprig of greenery, some ribbon and an ornament if it's for Christmas. Add embellishments to your pew decorations that accent those in your garland and vases. Doing this helps tie the entire look together and brightens the whole church.
Adding decor and Christmas window decorations is another way to bring the look into the entire space. If your church has stained glass windows, then use simple candles. Using electric ones ensures that you don't have to worry about fire, and you won't have to replace them. If you have standard glass windows, you can use other decorations. Hang wreaths in the same greenery that you used on the altar. If you stuck to the red, white and gold color scheme, tie ribbons in those colors onto the wreath.
Finally, you can get more creative and add a modern touch by making large hanging Christmas baubles or using other ornaments.