Things You'll Need
Flower garland

Flower arrangements

Large urns or vases

Grecian pillars

Gossamer fabric

Pew bows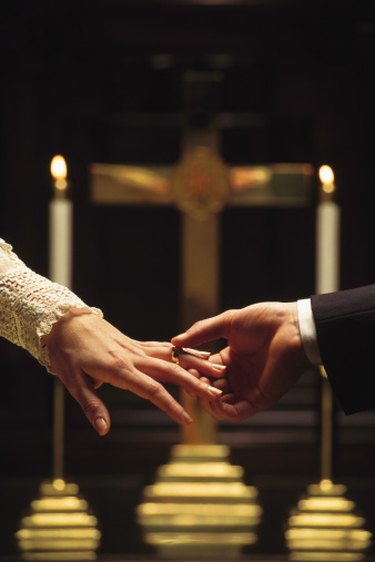 The sanctuary in a church is the sacred space around the altar and tabernacle. In some churches, this area is separated from the nave by a communion rail. Because of the sacred nature of this area, special care must be taken when decorating it. Before you plan your decorations, ask the head of your church what types of adornments are appropriate and where they may be placed. Ensure that any clips or fasteners are approved for use and will not cause damage.
Step 1
Decorate the altar with a garland made from greenery and flowers that complement the blooms in your bouquet. If a garland is not practical, it can be replaced with a flower arrangement that will not obstruct the functionality of the altar.
Step 2
Place an arrangement of flowers on either side of the altar. These arrangements can be large, because they are not reliant upon church-owned structures to support them. Furthermore, large urns or vases make these arrangements more transportable, making them easier to move to the reception venue.
Step 3
Place a small garland on the front of the pulpit if it will be used during your ceremony.
Step 4
Place two white pillars in front of the altar and drape a long panel of gossamer fabric between them. This is a practical choice if you are not allowed to decorate the altar but still want to have a strong focal point for your ceremony. The pillars can be decorated with additional garlands or ivy.
Step 5
To complete the theme, decorate the ends of the pews with bows of a complementary color. You can even add a few flowers to each bow.
Tip
To get the most out of your sanctuary decorations, have a trusted friend transport them to the reception venue immediately after the ceremony.