Things You'll Need
One 7 oz. jar of roasted sweet red peppers, drained

3 lobster tails

1 cup shredded cheddar cheese

1/4 cup shredded pepper jack cheese

1/3 cup grated Parmesan cheese

1 tsp. oregano

1 tsp. minced garlic

1/3 cup medium Picante sauce

Medium mixing bowl

Large bowl

Kitchen shears

Kitchen knife

Cutting board

Baking sheet

Spoon

Water

Ice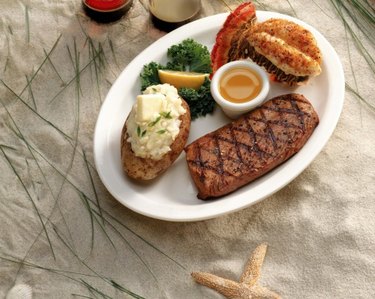 In cooking, lobster dainties can refer to both a type of small lobster also known as scampi and a method of cooking and serving lobster meat. The latter consists of broiling the lobster meat in its shell and serving with drawn butter and lemon. Simply baste lobster tails in the shell with clarified butter, garlic powder, salt and pepper and broil for one minute per oz. to cook lobster dainties. Add a few cheeses, vegetables and spices to lobster meat to give this beloved dish a spicy and savory kick.
Saucy Lobster Dainties
Step 1
Broil lobster tails for one minute per oz. While lobster tails broil, fill a large bowl halfway with water and ice.
Step 2
Place lobster tails in the water and ice immediately after removing from the broiler to cool the meat.
Step 3
Preheat an oven to 350 degrees F.
Step 4
In a mixing bowl, combine peppers, cheeses, oregano, garlic and Picante sauce. Stir well until incorporated.
Step 5
Remove the lobster tails from the ice bath once they are cool to the touch.
Step 6
Using the kitchen shears, carefully cut down the top of a tail shell lengthwise, starting at the left side of the tail. Cut across the bottom of the tail and then back up the other side so that you cut a rectangle out from the top of the shell. Repeat with the other two tails.
Step 7
Carefully scoop the meat out the tail with a small spoon, taking care not to tear or crack the shell.
Step 8
Set the shells aside and place the meat onto a cutting board. Chop the meat and add it to the other ingredients, mixing well.
Step 9
Use a spoon to scoop the mixture back into the lobster shells.
Step 10
Place the filled shells on a baking sheet and bake in the oven at 350 degrees F for eight minutes.
Step 11
Tip
Use hot peppers instead of sweet for an additional kick.
Instead of returning lobster meat to the shells, use it as a filling in puff pastry dough for a simple, but decadent, cocktail food or appetizer.
Warning
Use caution when cutting the lobster tails to avoid burns or lacerations.