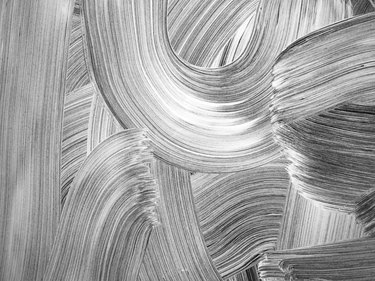 When creating an object in a painting that you want to look like silver, as with a still-life painting of a silver tea service, you can take a short cut with an already-mixed silver pigment that is shiny and reflective. But that doesn't teach you how to mix primary colors -- techniques every artists needs -- to make silver.
The process of mixing colors starts with the three primary colors from which you can make the other nine on the artist's color wheel. Once you understand the principles of mixing colors, you can make gray and add white highlights to make the object in your painting resemble silver.
Mixing Acrylic or Oil Paints
Palette
Palette knife
Red, yellow and blue paint colors

White paint
Black paint
Place a small amount of each of the paint colors on the palette.
Use the palette knife to pull small amounts of each color to a clean section of the palette. Mix 1 part blue with 1 part black, and add a small amount of white to create silver. Adjust as needed until you are satisfied with the results.
Adjust the temperature by adding brown to the mix. Mix equal parts of yellow and blue to make green. With your palette knife, mix in a bit of red until you achieve the desired brown. Add the brown to the gray to create a warmer shade of gray.
Adjust the value of the silver by adding more black or white. For a lighter value, add more white. To create a darker value, add more black.
5. Add Highlights and Shadows
Use pure titanium white to create highlights. Mix the desired gray with a bit of black to add shadows in the object you're painting.
Use the same colors to mix silver in watercolors as you would in acrylic or oil. The difference with watercolors is that you use water to adjust the depth of the hue and the value of the color. Water color paints come in liquid form in a tube or dry, cake form.
Watercolor palette with mixing wells

Areas for mixing colors
Watercolor paintbrush

Clean water
Red, yellow and blue paint
Black paint

White paint

Dip the watercolor brush in clean water and pat it a few times in the mixing well on your palette to release the water. Run your wet brush over the blue pigment and mix it with water in a separate well. Repeat until you get the desired blue value. Repeat this with the black paint and mix it with the blue.
2. Adjust Color Temperature
Experiment with different shades of blue and brown following the mixing steps for making brown to achieve the desired warmth.
Change the value of the color by adjusting the amount of water. More water creates a lighter value, while less deepens its value.
Do not clean your brush as you are mixing colors. This adds extra water to your mixture and affect the value of your color. Instead, allow the paint to dry in the well and then clean the dirty paint from the brush tip with a damp paper towel.
Developing an Artist's Eye
Use a small viewfinder to isolate the tone of gray you want to use to reproduce a silver object, and then experiment with different combinations of colors to get desired shade, tone or tint of color.
Small viewfinder
Black paint
White paint
Different shades of blue paint
Burnt umber paint
Burnt sienna paint
1. Visually Isolate With a Viewfinder
Make a viewfinder from a flat piece of cardboard by punching a hole in it -- or use a paper towel or toilet paper tube to visually isolate part of a scene to evaluate its characteristics. Isolate the section of the silver item you want to paint to determine the gray's value, hue and color temperature.
Experiment with different combinations of blue, black, white and other colors to create the shade of silver you need. Once you understand the basics of color mixing, you can pick up premixed shades of brown and blue to create different silver effects.
Mix ultramarine blue with burnt sienna in different ratios for a luminous silver.

Mix cobalt with burnt sienna for a soft silver gray.
Try Pthalto blue and burnt sienna for a warm, greenish silver.
The process of developing your artist's eye takes lots of practice, so be patient and don't be afraid to experiment. Colors always look different when they're surrounded with other colors, so don't be discouraged if a color looks wrong when you first put it on the canvas or paper.
For a shiny paint that reflects light like a mirror, add metallic powder to the desired shade, tone or tint of gray. Silver metallic powder contains tiny pieces of silver. Mix it with a liquid medium to create the consistency of liquid paint. If working with oil, mix the metallic powder with a little walnut oil before mixing it with the paint.
Mix the powder with an acrylic gel medium when working with acrylics. Avoid mixing metallic powders with watercolors because the water tarnishes the color -- unless you desire that result.
When working with metallic powders, work in a well-ventilated area and wear a dust mask.