Things You'll Need
Latex balloons

Helium tank

Curling ribbon

Scissors

Fishing line

2 balloon weights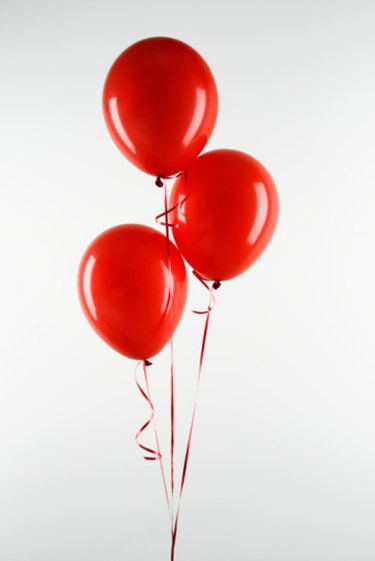 Helium-filled balloons make excellent, inexpensive party decorations. Purchase balloons with the helium already in them at party supply stores, or buy your own balloons and rent a helium tank to fill the number of balloons you need. Balloons are ideal decor items for different types of parties such as birthdays, anniversaries, graduations and weddings. You also can use balloons for school events, such as homecoming and proms, or meetings, conferences and other business events.
Balloon Bouquet
Step 1
Fill 10 balloons in coordinating colors with helium, and tie the bottoms of the balloons tightly to create a small knot. To tie the balloons accurately, hold the end of the filled balloon with your index finger and thumb. Use your other hand to pull the mouth of the balloon forward to stretch out an area that contains no air. Keep your index finger and thumb secure, on the balloon, to hold the air back and, with your other hand, loop the stretched out latex around your other index finger, and push the end through the hole you have created from the loop to tie and secure.
Step 2
Measure and cut a piece of 6-foot ribbon. Tie one end of the ribbon onto the bottom of the balloon at the knot. Repeat this with the other nine balloons.
Step 3
Gather all the ribbons together so the balloons are at the same height. Place your hand in the center of the ribbons and tie a knot so they remain together.
Step 4
Create several bouquets to hang around a room in various colors, or stick to one color scheme.
Balloon Arch
Step 1
Attach a 12-foot piece of fishing line to two balloon weights. Place the weights on either side of the fishing line.
Step 2
Blow up 15 balloons with helium and attach a 12-inch ribbon to the bottom of each balloon. Attach the balloons to the fishing line using the ribbons.
Step 3
Work from one end of the fishing line and tie the balloons, one by one, to the line. Pull the ribbon tightly to the fishing line so the balloon is as close to the fishing line as possible. Tie all the balloons to the fishing line.
Step 4
Move the weights inward so the balloons lift the line upward creating an archway. The archway should be around 6-feet tall for people to walk underneath without hitting their head.