Things You'll Need
Scissors

Hot glue gun

Lanyard swivels or key chain ring (optional)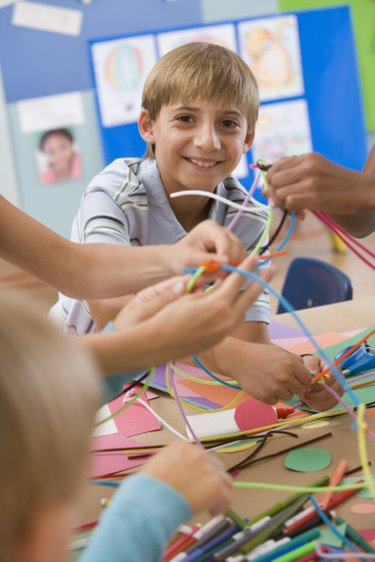 Gimp is a flat or round plastic string used in crafts. It comes in a variety of colors and can be plaited, braided, knotted or woven. Other names include boondoggle, craft lace, lanyard or scoubidou. Children enjoy making braided ropes or lanyards for key chains or friendship bracelets, but adults enjoy creating projects with it as well, and the crafts created can be complex. Braiding or weaving crafts with gimp stimulates creativity and hand-eye coordination.
Step 1
Determine the amount of gimp needed for a project and purchase it at a craft store. Gimp comes in a variety of colors and in skeins of 5 to 10 yards. Serious crafters can purchase spools of 100 yards or more. Plaiting and knotting takes a lot of gimp. For a 4-inch lanyard made with a square braid, estimate about 6 yards of gimp divided into four strands.
Step 2
Cut the gimp into the needed lengths with scissors. For knotting a key chain lanyard, cut two 3-yard lengths. You can use coordinating colors if you wish.
Step 3
Tie a knot to begin your work. Many knotted projects begin by crossing two strands of gimp at midpoint and tying an overhand knot with one strand around the other. This creates the four strands needed for a square braid, one the basic knotting techniques. Another option is to fold lengths of gimp in half and mount them onto a key chain ring or swivel lanyard clasp.
Step 4
Braid, weave, or knot your project. There are a variety of knotting or braiding styles to use, including those that produce spirals and twists. Many use four strands of gimp, but six or eight strands are possible.
Step 5
Finish the project with your choice of finishing knots or simply tie off all the strands snugly. Gimp does not come undone easily. Tie off the knots and cut off excess gimp a few inches beyond the final knots. For extra hold, you might wish to apply a drop of hot glue.
Tip
Beginners may want to purchase a kit with several skeins of gimp, beads, rings and swivels. Gimp comes in either round plastic lace or flat hollow string.
Warning
Plastic gimp is stretchy, but it will break if pulled hard enough.