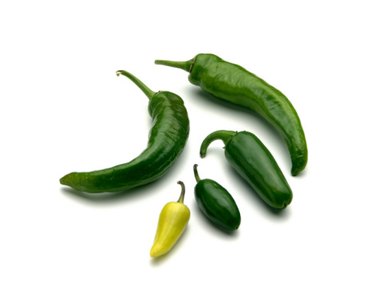 Serrano peppers are popular in Mexican cooking and are esteemed for their flavor, for for their thin, tender skins that don't need to be peeled, and most importantly, for their powerful heat. If you don't have fresh serrano chilies, the best substitutes are fresh habaneros, gueros or jalapenos. If even these are unavailable, however, you can use readily available crushed red pepper flakes, which are typically made from dried cayenne peppers. Because these are fruitier than serranos, the flavor of your finished dish will be different, but you'll still have the heat you desire.
Step 1
Determine how many serrano chilies your recipe requires.
Step 2
Measure out 1/4 tsp. crushed red pepper for each seeded, deveined and chopped serrano called for in your recipe.
Step 3
Add and cook the crushed red pepper following the recipe's directions for serrano chilies.
Step 4
Taste your dish after you add the pepper flakes, and add more to suit your taste if desired.