Things You'll Need
Baking soda

Bowl

Spoon

Paint brush

Cotton swabs

Grape juice

Lemon juice

Salt

Crayon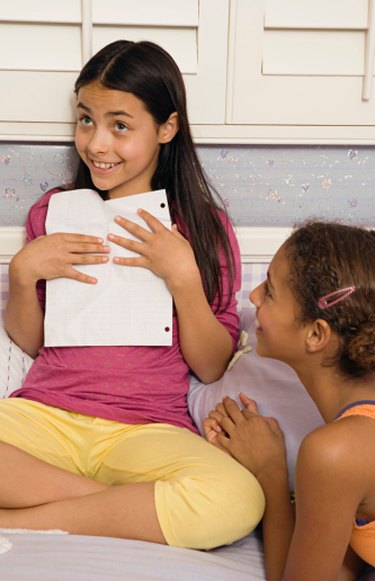 Invisible ink is the perfect way for kids to send each other secret messages, play detective or just learn about the wonders of science. You don't need a dangerous heat source to reveal secret ink messages, just a few things from your kitchen. Have materials on hand for your child's next birthday party, or let kids send spy coded messages at school or church events. It's an inexpensive activity that kids of all ages will enjoy doing.
Baking Soda
Step 1
Mix together 1/4 cup of water and 1/4 cup of baking soda in a bowl, and combine them with a spoon.
Step 2
Dip a cotton swab or a paint brush into the baking soda mixture, and write your secret message on a piece of paper. Allow the message to dry, which should only take a few minutes.
Step 3
Paint over the dried baking soda message using a paint brush and grape juice. The grape juice and baking soda will react, causing the message you've written to appear.
Lemon Juice
Step 1
Dip a paint brush into lemon juice and write your message on white paper. Allow the lemon juice to dry for a few minutes.
Step 2
Sprinkle salt over the lemon juice message, and let it sit for a minute. Brush the salt away.
Step 3
Color the message with a crayon to reveal the hidden lemon juice message.