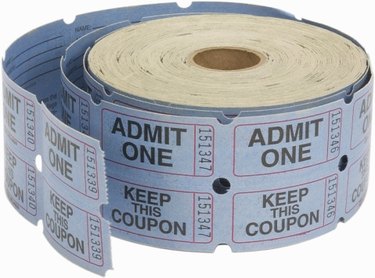 If you are hosting a 50/50 fundraising event, then you will need tickets to give to ticket buyers. Most 50/50 tickets that you buy in a store or online have a perforated border that allows you to tear off one half of the ticket easily. Because you are printing your own 50/50 tickets, you will need to carry around a pair of scissors so that you can snip the pair apart. The ticket buyer gets one of the pair. You get the other. Your tickets are thrown into a hat. The winner of the draw receives 50 percent of the money raised by the purchase of tickets.
Step 1
Open a new Microsoft Word document by clicking the icon twice on your "Start" menu. When the new document opens, click "Office Button" and "New."
Step 2
Type "tickets" in the search box on the right side of the menu that appears on your screen. Scroll through the ticket templates. You want to select a raffle ticket template that has two parts with identical numbers on them.
Step 3
Double-click the ticket icon your like. It will open in your word document.
Step 4
Load your printer tray with card stock. A sturdier paper such as this is a good option for tickets.