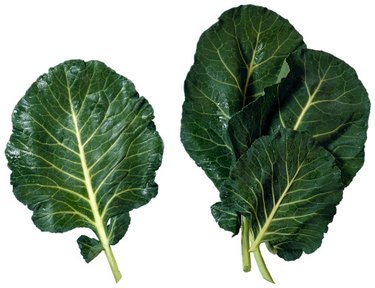 Collard greens (Brassica oleracea acephala) are a nutritional powerhouse. The dark green leafy vegetable, a member of the cabbage family, is an excellent source of vitamins A and C, as well as thiamine, niacin and riboflavin. According to the University of Arkansas, collards were first grown in the eastern Mediterranean and were among the foods consumed by prehistoric man. Plant them during the first part of spring to harvest in summer. Plant again in the middle of the summer, and you can be enjoying collards into early winter.
Step 1
Plant the greens at 6-inch intervals in the garden patch.
Step 2
Watch the plants grow to a height of 6 to 10 inches.
Step 3
Cut the plants at ground level to harvest the entire plant. As an alternative, you can harvest the larger leaves from the plant when it reaches a height of 10 to 12 inches, leaving the smaller, younger leaves to continue developing.
Tip
If you want to harvest only the tender inner leaves of the plant, you can tie together the outer leaves to protect them from the heat of the sun until you are ready to pick the inner rosette.
Leaving collards planted at midsummer in the ground until frost actually improves their flavor, according to the University of Arkansas.
Generally speaking, collard greens are ready to pick after 60 days of growing time.
The University of Arkansas states that keeping the soil around your collards moist during the summer's hot months will help lead to an ample harvest.
Warning
Collard green stems are subject to bacterial soft rot once removed from the ground. To prevent this, the University of Arkansas recommends spraying a copper sulphate or copper bordeaux fungicide on collards when you first harvest them.