Things You'll Need
Kitchen scissors

Skewers

Lemon

Olive oil

Oregano

Salt

Pepper

Red pepper flakes

Grill

Crackers

Hot sauce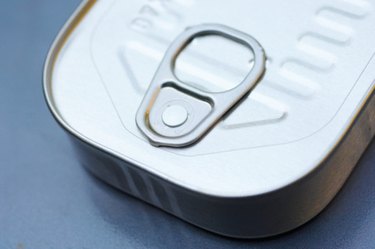 Sprats are a small fish similar to herring that are used for bait as well as for eating. Sprats are often found prepackaged in a manner similar to sardines, usually packed in oil, mustard or another type of sauce. Canned sprats are often smoked before being packaged to give them an extra flavor component. If you happen to have fresh sprats you can cook them in a variety of ways for a delicious dinner or appetizer.
Fresh Sprats
Step 1
Cut the center of the belly of the sprats with kitchen scissors and rinse out the innards. Remove the gills with your fingers. Leave the heads on and the bones in the small fish, as they can be eaten.
Step 2
Skewer sprats and brush with olive oil and lemon. Sprinkle on your favorite herbs and spices such as oregano, salt, pepper and red pepper flakes.
Step 3
Place skewers on a foil-covered hot grill pan and cook on one side until blistered and slightly brown. This should take approximately three minutes. Flip sprats over and cook on the other side for about two minutes. Remove from grill and eat whole with crackers or bread.
Tinned Sprats
Step 1
Eat tinned sprats directly out of the can by placing on a cracker. Add a few drops of hot sauce and a squeeze of lemon if desired.
Step 2
Use sprats in place of tuna or sardines in a salad mixture with olive oil, mustard, salt and pepper. Serve on toast or crackers.
Step 3
Add canned sprats to cooked pasta along with sauteed onions and garlic in olive oil. Add some red pepper flakes, a squeeze of lemon and a few grates of parmesan cheese for a delicious Italian-style dish.