Things You'll Need
Salt

Pepper

2 tbsp. olive oil

Lemon juice

Melted butter

Parsley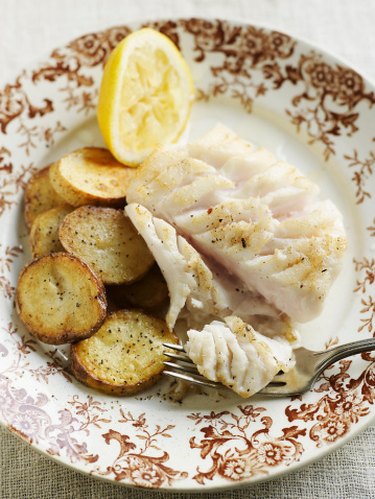 Both cod and haddock are members of the same family. In any recipe calling for one, the other can be seamlessly substituted. Haddock and cod both have white, clean, firm flesh that has large flakes once cooked. Cod and haddock do best with simple preparation, since their flavor is so delicate and mild. Quickly pan-frying cod and haddock is an ideal way to prepare these fish. It produces a firm fish without overpowering the natural flavor.
Step 1
Rinse and pat dry each fish fillet. Sprinkle both sides with salt and pepper.
Step 2
Heat oil in a large, non-stick skillet. If you don't own a non-stick skillet, sprinkle salt directly into the heated oil in a regular skillet to create a non-stick effect.
Step 3
Gently add the fish to the pan. If there is skin on the fillet, lay it in the pan skin-side down.
Step 4
Cook the fish until it is crisp, firm and opaque, about 4 minutes per side. If the fish has skin on it, do not flip the fish until the skin is browned.
Step 5
While the fish is cooking, whisk together equal parts melted butter and lemon juice. Add minced parsley to the mixture, if you wish.
Step 6
Remove the fish from the pan. Dress with the lemon-butter mixture and serve immediately.