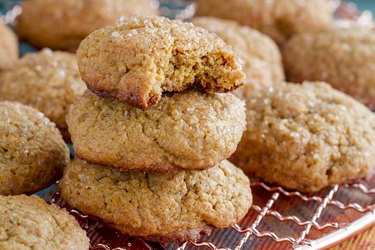 Pumpkin cookies are a tasty treat even after pumpkin spice season ends. How long will cookies keep? It depends on your storage method and the type of cookie. Unfrosted homemade pumpkin cookies can last up to seven days when stored at room temperature in an airtight container, or they can be frozen for up to one year. Frosted cookies should be kept in the refrigerator and enjoyed within three days, or they can be frozen for up to two months.
Prepare Fresh Pumpkin for Baking
To prepare a fresh pumpkin for baking or casseroles, wash the outside of the pumpkin under the tap with plain water. A small pumpkin can be cooked whole by simply poking a few holes through the rind, placing it on a baking sheet and baking at 350 degrees Fahrenheit for 30 to 45 minutes or until tender.
Alternatively, wash the rind before cutting a medium to large pumpkin into quarters. Remove the stem and scoop out the seeds. Put approximately 1 inch of water into a pan and then add the pumpkin pieces. Bake at 350 degrees for 45 minutes or until tender.
After baking, allow it to cool to the touch and then remove the rind and in the case of a whole pumpkin, the seeds and stringy interior. Mash the cooked pumpkin for use within seven days or put it into freezer bags or containers. Label them with the date and freeze for up to a year, though it's best used within three or four months. To make it easy to thaw just the right amount of mashed pumpkin for cookies or pies, measure into the correct amounts for your favorite recipe, label the freezer bags accordingly and freeze.
There are a number of pumpkin cookie recipes available, but the easiest only needs two ingredients: a spice cake mix and 2 cups of mashed pumpkin. Preheat the oven to 350 degrees. Cover a baking sheet with parchment paper.
Mix the pumpkin and spice cake mix together until all lumps have disappeared. Though the original recipe doesn't call for other ingredients, if desired, you can stir in 1/2 to 1 cup of miniature dark, milk or white chocolate chips and/or an equal amount of chopped almonds, pecans or walnuts. Scoop and drop rounded tablespoons 2 inches apart onto the parchment paper.
Bake the cookies for 13 to 15 minutes until the edges begin to turn a golden color. Remove them from the oven and allow them to cool for five minutes before transferring to a wire rack to finish cooling. Enjoy the cookies unfrosted or frost with a cinnamon-spiced buttercream frosting when completely cooled.
Pumpkin cookies can be stored at room temperature, refrigerated or frozen. In general, soft unfrosted cookies stored at room temperature should be kept in an airtight container and enjoyed within the week. Crispy cookies can be kept two to three weeks. Frosted pumpkin cookies should be refrigerated and enjoyed within three or four days.
You can also freeze your pumpkin cookies for up to a year. Put the cookies in a freezer container with wax or parchment paper between each layer. Freeze frosted cookies in a single layer on a cookie sheet and then stack with wax or parchment paper in a freezer container. Generally, the best containers for freezing cookies are rectangular or square and tall enough for two to three layers of cookies, which allows you to stack several containers filled with different flavors in the freezer.