Things You'll Need
Drill and hammer

Screws or finishing nails

Pencil

Studfinder

Hammer or nail gun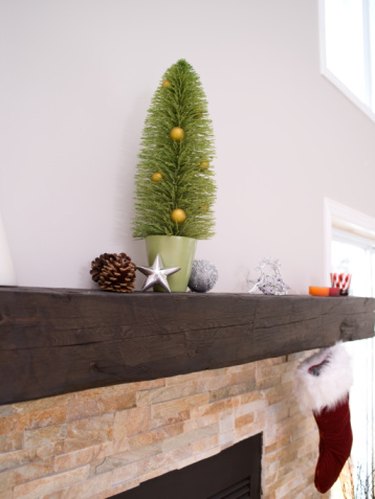 A mantle is often the finishing decorative touch for a fireplace installation and allows the space to hold pictures, ornaments and even televisions that build on the attention-catching atmosphere of a fireplace. These mantle pieces are often heavy and require seriously strong fasteners to be secured to the wall. If you are installing the mantle to sheetrock (also known as drywall), you must drive the fasteners into the studs of the wall for secure holding.
Step 1
Assemble the mantle, if it does not come pre-assembled. Many mantles will simply require you to attach the legs to the shelf with screws or wooden finishing nails. Follow specific manufacturer instructions for this part, as procedures vary by product.
Step 2
Hold the mantle up against the wall where you intend to install it. Because of the weight, you may need someone to help you lift the mantle from the floor and hold it in place.
Step 3
Trace the shelf of the mantle against the wall, leaving a pencil line on the wall to mark the height of the mantle. Gently lower the mantle back to the floor.
Step 4
Use a studfinder to locate the studs through the drywall along the line you drew. Mark the center of each stud with a pencil everywhere a stud crosses the line you drew.
Step 5
Lift the mantle back into place. Holding your drill at a 45 degree angle downward, drill a pilot hole through the shelf and drywall and into the stud. Install a finishing nail into each of the pilot holes with a nail gun or hammer; the nails must be long enough to penetrate at least 1 inch into the drywall. These nails will secure the mantle in place.
Tip
If you are unsure that your mantle will stay in place with nails in the shelf alone, repeat the procedure along each leg, driving a finishing nail into the studs where they meet the legs.
Some mantle manufacturers provide a cleat, which is a piece of wood that is attached to the drywall. The mantle then hangs from this cleat, so that the wood and not the drywall supports its weight. Follow specific product instructions for details.