Things You'll Need
Glass mixing bowl

Wire whisk

Electric mixer

1 cup heavy cream

Mesh sieve

Cheesecloth

Bowl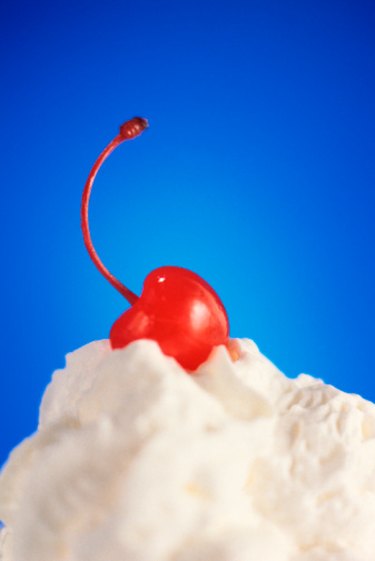 Whipping cream is a main ingredient for professional and home bakers alike, and is commonly used in desserts. The sweet and fluffy, cloud-like cream is made from whipping heavy cream with a whisk or electric mixer. During whipping, the fat in the cream begins to stick to the air bubbles, doubling and stiffening the cream. Whipped cream is a component in desserts such as lemon meringue pie, and complements other desserts as a topping. Whipped cream can be made up to 48 hours in advance of when you need it, if properly stored.
Step 1
Place a glass mixing bowl, the wire whisk or the metal beaters into the freezer for 15 minutes. Heavy cream needs to be whipped in a chilled environment for best results.
Step 2
Fill a shallow bowl wider than the one in the freezer halfway with water and ice, then place the chilled mixing bowl inside of it.
Step 3
Pour 1 cup of heavy cream into the bowl, and beat with the electric mixer for 20 to 30 seconds on low. If you are using a wire whisk, add another 10 to 15 seconds, or mix until you see bubbles starting to form.
Step 4
Turn the speed on the electric mixer to medium and continue to beat until the cream just begins to thicken. Expect this to take a while if you are using a wire whisk.
Step 5
Turn the electric mixer to high and mix on high while slowly, and gradually adding 2 tbsp. of sugar into the cream. Ensure that all the sugar is being mixed into the cream by moving the beaters all around and along the edges of the bowl.
Step 6
Stir until stiff peaks form, about another 20 to 30 seconds if using an electric mixer. The cream should hold shape and stick well to the beaters if it is sufficiently whipped. Do not over whip the cream or it will begin to break down.
Step 7
Line a mesh sieve with cheesecloth.
Step 8
Pour the whipped cream into the cheesecloth-lined sieve, and place the sieve in a bowl that will hold it up so that the bottom of the sieve is at least 2 inches from the bottom of the bowl.
Step 9
Cover the sieve and bowl tightly with plastic wrap and place in the refrigerator until ready to use. The sieve will pull condensation into the bottom of the bowl, which will help keep the cream thick and stiff.
Tip
When adding sugar, you can also add small amounts of flavoring such as vanilla extract or citrus zest that will add flavor to the whipped cream.
If the whipped cream is a little too stiff when you are ready to use, add about 1 to 2 tbsp. with a wire whisk to soften up the cream.