Things You'll Need
Large white V-neck T-shirt

Scissors

Iron

Iron-on fusible interfacing

Strip of fabric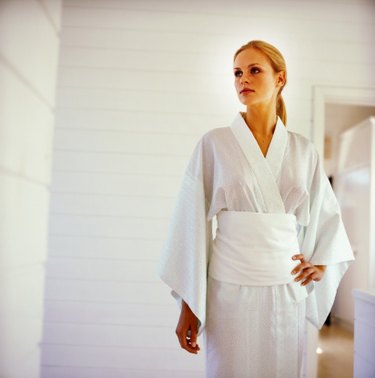 If you're looking for some fun craft projects to try with your kids, find some old T-shirts. Instead of tossing out those old white T-shirts, try this project that gives the tee new life and encourages your child's creativity. Neither complicated nor time consuming, the project encourages children and adults to take part in the kimono creation together. Kids will have fun when it's finished as they show off their new customized kimonos to all their friends.
Step 1
Lay T-shirt flat on a work surface.
Step 2
Use scissors to cut a straight line down the front of the T-shirt from the bottom of the V-neck.
Step 3
Trim a piece of fusible interfacing to the length of the shirt. Position it vertically down the front of the shirt about 1 inch from the cut you made. Fold the inch of fabric over the interfacing. Use the iron to attach the T-shirt and interfacing together.
Step 4
Repeat Step 3 on the other side.
Step 5
Decorate the kimono with patterns or pictures using fabric markers.
Step 6
Tie a strip of extra fabric around the kimono to close it.