Things You'll Need
Cardboard

Lettering stencils

Art tape

Fabric paint

Sponge brush

Squeezable fabric paint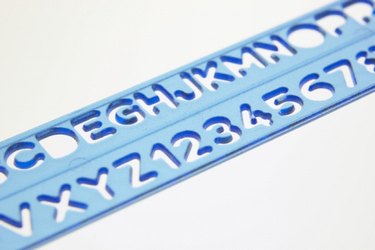 When you paint wording on a T-shirt or other piece of fabric, producing letters that are even and uniform in design can be difficult. This can make the finished product appear novice and cheaply made. One solution is to use a lettering stencil when painting on wording, which will produce clear and even letters. You can find lettering stencils in a variety of sizes and designs at any craft supply store or scrapbooking shop.
Step 1
Lay the fabric to which you want to apply lettering on a sheet of cardboard. If you are applying letters to a T-shirt, insert the cardboard inside the T-shirt.
Step 2
Tape a lettering stencil onto the fabric using art tape. Art tape can secure the stencil onto the fabric without leaving behind a sticky residue.
Step 3
Cover the lettering stencil with fabric paint using a sponge brush. Do not apply paint onto the edges of the stencil. Allow the paint to dry fro 30 minutes, then remove the stencil and tape.
Step 4
Trace around the painted-on letters using squeezable fabric paint. This will make the letters appear more refined and professional-looking. Allow the paint to dry for 30 minutes.