Things You'll Need
Clean rag

Garden hose

Tape measure

Downspout extension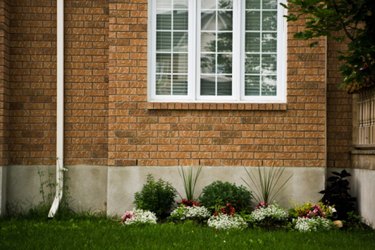 Downspouts are a very important part of any house. They attach to the gutters at the top of the eave and run rainwater away from the exterior. These downspouts are available in vinyl or aluminum, but both follow the same installation methods. One important step in the installation process of downspouts is positioning them in the proper location on the ground. They must face a direction you want the water to run toward. Over time, things may change and you may find it necessary to change the direction of the downspout. Redirecting any downspout can be accomplished in just a few minutes.
Step 1
Clean out the bottom of the downspout with a rag. Wipe away any dirt and debris at the bottom edge, spray water up the downspout with a garden hose and allow it to rinse back down.
Step 2
Measure the size of the opening of the downspout with a tape measure to determine the proper size extension needed. Most downspouts measure 2-inches-by-3-inches wide, while some may measure 3-inches-by-4-inches wide.
Step 3
Slide the extension over the bottom of the downspout. Push up firmly on the extension and secure it to the downspout by hand. If it is a flexible extension, pull it out carefully by hand and stretch it out as far as it will go. Most extensions extend out four feet or more.
Step 4
Position the extension at the desired location. Twist and turn it until it is facing the proper direction. Push it in or pull it out to the distance you want it to be from the house.