Things You'll Need
Skillet

Knife

Wooden spoon

Hot Italian sausages

Sweet Italian sausages

Olive oil

Onion

Bell peppers

Garlic

Italian bread loaf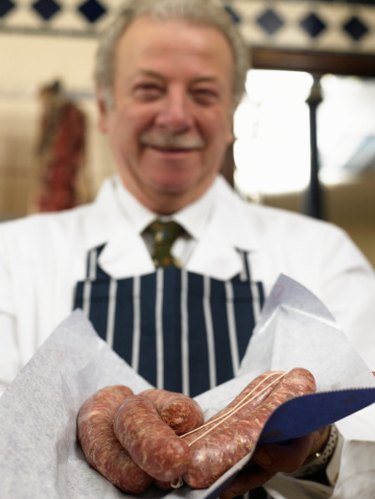 Italian sausage is known for its rich seasonings and sweet, medium and hot styles. Broiling Italian sausage is one of the best ways to bring out the full, juicy flavor and delightful aroma. Since most sausage is made from pork, it is important to cook it fully for safety reasons. Making the Italian sausage and pepper hero sandwich is an excellent way to familiarize you with the sausage broiling technique.
Step 1
Heat 3 tbsp. olive oil in a heavy skillet over medium heat until hot, but not smoking. Add one large onion, halved lengthwise and thinly sliced. Add three bell peppers – red, orange and green – thinly sliced; 1/2 tsp. salt, 1/4 tsp. black pepper and 3 large garlic cloves, thinly sliced. Cook for 15 minutes or until golden.
Step 2
Preheat the broiler while the peppers and onion are cooking. Pierce two hot, and two sweet Italian sausages with a fork to keep the sausage casing from splitting. Put the sausages on the broiler pan rack, and place it under the broiler. Make sure the broiler pan and rack are approximately 8 inches from the heat source. Broil for seven minutes until golden brown. Pull the broiler pan from the oven and turn the sausages over. Broil for another seven minutes.
Step 3
Remove sausages from the oven to a cutting board, and let cool for five minutes. Cut the sausages in half lengthwise, then cut the Italian bread loaf in four equal sections. Slice each section in half to form a top and bottom piece for each sandwich. Place one hot and one sweet Italian sausage half on each sandwich and top with the pepper and onion mixture.
Tip
Refrigerate the sausages as soon as you get home from the store. Use fresh sausage within two days of purchasing. If you are not cooking your sausage immediately, put it in the freezer until ready for use.
Cooked sausage, kept in the refrigerator, is good for up to four days.
Use a separate cutting board for sausages and vegetables. Thoroughly wash and sanitize any cutting board after slicing raw sausages. Wipe the cutting board with 1 tbsp. bleach and rinse the board with clear water.
Warning
Never defrost sausage on the kitchen counter. Defrost slowly in the refrigerator or in your microwave oven on defrost setting. Cook immediately after defrosting