Things You'll Need
Old clothes

Protective glasses

Ladder

Painter's plastic

Drop cloths

Painter's tape

Large duster or broom

Large sponge

Caulk

Painter's scraper

Paint trays

Primer

Paint rollers

Wall paint

Drywall joint compound

Bucket

Paint-mixing sticks

Small sponge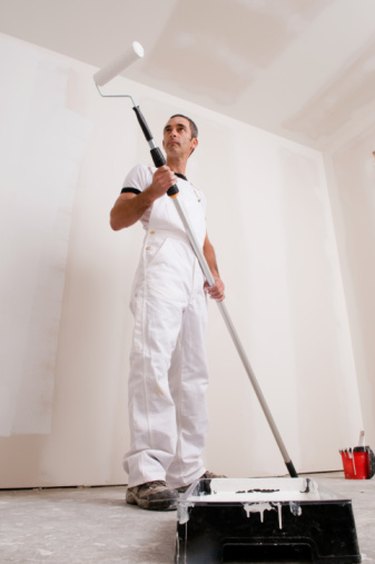 Liven up your ceiling by adding soft texture with drywall joint compound and a sponge. Unlike popcorn ceilings of the past, a ceiling textured with a sponge adds just enough dimension to make it visually appealing yet not overbearing. Ultimately, the amount of texture is up to you. A sponge is a versatile tool because of the many ridges and holes, and you can easily add more or less of the drywall joint compound to create different looks.
Step 1
Move all furniture and accessories out of the room.
Step 2
Put on old clothes and protective glasses.
Step 3
Cover the walls with painter's plastic and the floor with drop cloths, securing them with painter's tape.
Step 4
Set up a ladder. Stand on the ladder and brush off the ceiling with a large duster or broom.
Step 5
Dip a large sponge in water and use it to wipe the ceiling clean.
Step 6
Fill in holes or cracks in the ceiling with caulk. Scrape off excess with a painter's scraper.
Step 7
Fill a paint tray with primer. Roll the primer onto the ceiling. Allow it to dry.
Step 8
Set a drywall finishing tray on the floor. For a lightly textured ceiling, fill the tray with two parts paint to one part drywall joint compound. For a heavily textured ceiling, use one part paint to one part drywall joint compound or use only the compound. Thoroughly mix the combination in a bucket with paint-mixing sticks before filling the tray.
Step 9
Dip a small sponge into the mixture. Practice dabbing it onto the drop cloth until you feel confident creating the texture you desire.
Step 10
Dip the small sponge into the mixture and dab it around the perimeter of the ceiling, where the ceiling and walls meet.
Step 11
Dip a larger sponge into the compound mixture after the perimeter of the ceiling has been textured. Begin texturing a small area, about 2-by-2-feet, in one of the corners, slightly overlapping the textured perimeter.
Step 12
Continue working in small areas at a time, re-dipping the sponge into the compound mixture as needed. Slightly overlap each section every time you start a new one.
Step 13
Pour paint in your desired ceiling color into a paint tray once the texturizing has dried. Roll a painting roller into the paint and paint over the texture. Allow the paint to dry. Use two coats of paint if you did not mix the drywall joint compound with any in the beginning.
Step 14
Remove the drop cloths, clean the room and replace the furniture.