Things You'll Need
Frying pan

Lemon

Flour

Salt

Pepper

Bowl

Olive Oil

Butter

Fork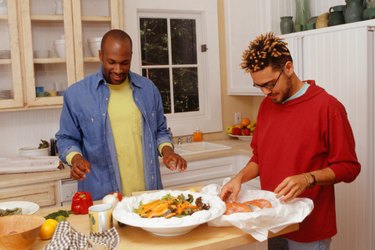 Cook up walleye straight from the freezer for a mild, flaky fish that can be served with a side salad or grilled vegetables. The quick cooking time of fresh fish allows you to cook it from frozen and skip the defrosting period. Use frozen walleye in various recipes such as fish pies and fish stew, or simply pan-fry it for a family dinner. No matter how you like your walleye, you can simply cook it from frozen for a no-hassle meal.
Step 1
Heat a heavy frying pan on medium heat.
Step 2
Cut a fresh lemon in half and squeeze it over the frozen walleye fillets. Lightly dust each side of the fillets with flour. Sprinkle with salt and pepper to taste. If you like a thicker coating mix the flour, salt and pepper in a bowl and dredge the fish in the mixture. Place fillets on a plate and set aside.
Step 3
Pour 1 tbsp. olive oil into the frying pan and heat for one minute. Add 1 tbsp. of butter to oil. When the butter is melted, lift the pan and give it a good swirl to ensure the entire bottom is coated. Place the walleye fillets in a single layer in the frying pan.
Step 4
Cook for 3 to 4 minutes on either side; turn them only once. You may need to cook the fillets a bit longer (5 to 7 minutes per side) because it is frozen; you will know the fish is cooked when it turns opaque. Serve with your favorite side dish or use in stew or pie filling.
Tip
You can also broil, grill or bake walleye fillets from frozen. Remember to add to the cooking time because the fish is frozen, and cook until it turns opaque in color or flakes when prodded with a fork.