Things You'll Need
Drop cloth

Paint

Paint brush

Small roller with roller cover

Roller tray

Paint sprayer

Wire brush

Water

Cleaner

Sandpaper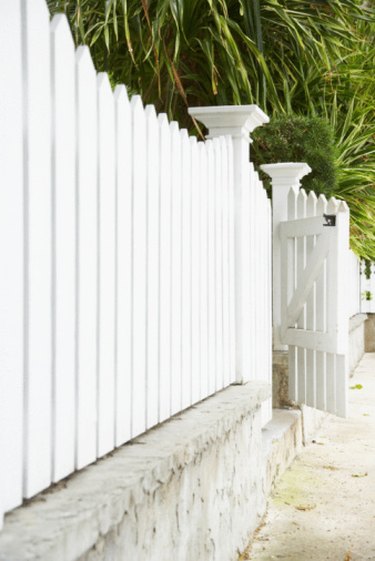 When it comes to painting, touching up railings and picket fences is among some of the most time-consuming jobs. It takes extra concentration to paint between each slat and ensure even coverage without drips, so it is often costly to have a professional come in and do the work for you. Instead of hiring a painter for something you can do yourself, incorporate some techniques to make the job easier.
Step 1
Lay down a drop cloth at your work area. This protects the surrounding areas from paint spills and makes clean up easier.
Step 2
Clean and sand the slats, balusters or spindles. Remove loose paint and all dirt and debris to give the paint a good surface to stick to.
Step 3
Use a sprayer to paint your slats if wind and location allow it. Try removing the section of fence or railing so you can lay it down and spray a nice even coat without fear of over-spray. If this is too difficult, or it is windy, use a brush or roller.
Step 4
Incorporate a small roller when painting between slats. Load the roller with paint and slide it between two slats. Paint one side of two different balusters with just a couple motions of a roller.
Step 5
Paint with a brush to reach areas the roller missed and to catch any possible drips.
Step 6
Dip and angled brush in paint and carefully paint each slat using up and down strokes, if there is not enough space to fit your roller. Use longer strokes to minimize the appearance of the bristles as the paint dries.