Things You'll Need
Large Russet potatoes

Extra virgin olive oil

Kosher salt

Soft brush

Fork and knife

Paper towel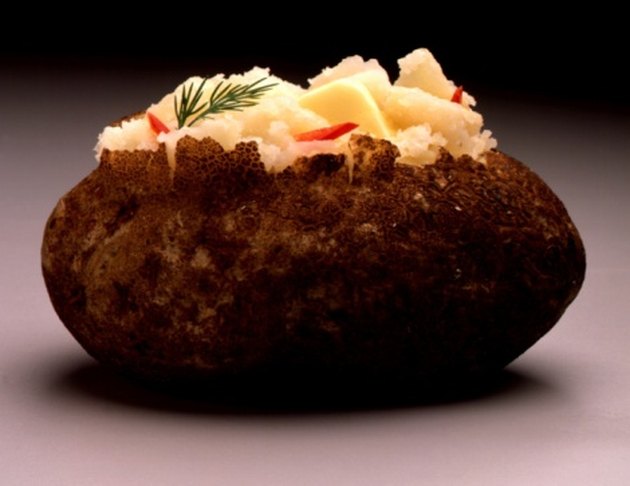 Baked potatoes are a side dish that can complement just about any meat entree, including barbecue chicken, steak or even turkey. A baked potato should have a crispy skin and be creamy inside; which can only be accomplished by the way it is prepared. The most important step in making a homemade baked potato is the use of Russet potatoes, which are also known as baking potatoes.
Step 1
Move a rack to the center of the oven and preheat it to 400 degrees Fahrenheit.
Step 2
Wash the Russet potatoes under cool water and use a soft brush to remove any dirt from the skin. Pat the potatoes dry with a paper towel.
Step 3
Poke the skin of the potatoes with a fork. Make anywhere from 6 to 10 pokes in the potato, depending on its size.
Step 4
Lightly coat each potato in extra virgin olive oil. Do not saturate the potatoes.
Step 5
Use Kosher salt to season the skin of the potato.
Step 6
Place the potatoes directly on the rack in your oven, keeping them as centered as possible. Bake for 45 minutes or until the skins are wrinkled, crispy and slightly puffed.
Step 7
Remove the potatoes from the oven and turn off the heat. Place each potato on a plate and use a knife to cut down its center. Use your hands to push both edges of the potato together to make it blossom open.
Step 8
Serve with sour cream, chives, bacon or shredded cheddar cheese.