Things You'll Need
100-grit sandpaper

Sanding block

180-grit sandpaper

Cloth

Acetone

1-quart pressure pot spray gun

Sanding sealer

Lacquer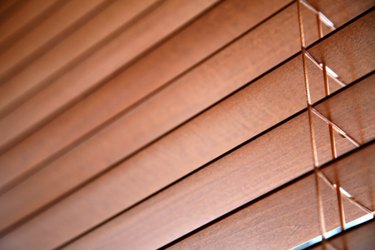 Eucalyptus is a unique hardwood with some unusual properties. It is very hard like other hardwoods but has an oily residue that should be removed before you attempt to seal it. After you remove the oil, you can then use standard wood finishing products to seal it. Eucalyptus is tight-grained and hard, but moisture will penetrate into the pores in time. Sanding sealer followed by two coats of lacquer can properly seal eucalyptus.
Step 1
Sand the wood with 100-grit sandpaper attached to a sanding block. Sand it again with 180-grit sandpaper until the eucalyptus feels smooth to the touch.
Step 2
Wipe the wood with a cloth dampened in acetone. Use a moderate amount of pressure and rub with the grain to remove invisible oil. Wait one hour and wipe the wood again. Wait 15 minutes for the wood to dry.
Step 3
Spray the wood with sanding sealer in a one-quart pressure pot spray gun. Let the sealer dry for 30 minutes.
Step 4
Sand the wood by hand with 180-grit sandpaper. Sand until the surface has a white powdery look to it. Don't remove the powder because it aids in curing the following coats.
Step 5
Fill the gun with lacquer. Spray two coats of lacquer on the wood, waiting 15 minutes between coats.
Tip
You can spray up to four coats of lacquer on the eucalyptus wood if you want a deeper finish, but one coat of sealer followed by two coats of lacquer is sufficient. Eucalyptus is also commonly referred to as "lyptus."
Warning
Always wear breathing and eye protection when sanding or spraying wood sealing products.