Things You'll Need
Old newspaper

Plastic sandwich bags

1 cup cornstarch

1/4 cup water

Food coloring

Glitter (optional)
Making slime with kids can be messy, but a variety of slime recipes can be made in a matter of minutes with little to no mess. Homemade slime without glue or Borax is not messy, and it requires just a few common household products. Best of all, this slime recipe can be altered so that your child can make his slime personalized just the way he likes it.
Step 1
Cover a large table or work surface with old newspapers. Give each child making slime her own plastic, reusable sandwich bag.
Step 2
Measure 1 cup of cornstarch and pour it into a sandwich bag. Measure 1/4 cup of water and slowly add it to the cornstarch.
Step 3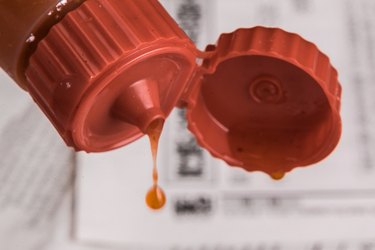 Add a few drops of food coloring. You can also have kids add a few pinches of glitter to give the slime sparkle. Allow children to experiment with mixing different colors to make the slime personalized.
Step 4
Press the excess air from the sandwich bag and seal it closed. Knead the closed sandwich bag with your hands until all the contents of the bag are blended. Once all the ingredients are blended, the slime is ready to be played with.