Things You'll Need
1/2 cup of salt

1/2 cup of baking soda

6 cups of water

Cooking pot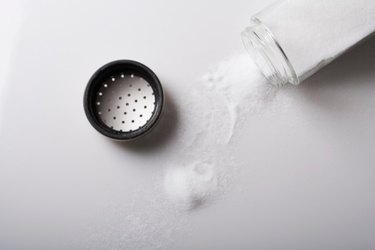 Whether it's located in your shower or your sink, a clogged drain can cause frustration. While you can purchase drain cleaners to take care of the problem, many of them contain harsh chemicals that can cause eye or skin irritation. Instead of using toxic cleaners, you can mix up your own drain cleaner using salt, baking soda and water. This homemade cleaner will help clear your drains and doesn't pose a threat to any children or animals who may come into contact with it.
Step 1
Pour 1/2 cup of salt and 1/2 cup of baking soda directly into the clogged drain. You do not need to mix these two ingredients together before you pour them into the drain.
Step 2
Fill a pot with at least 6 cups of water and heat it on your stove.
Step 3
Turn off the stove burner when the water comes to a rapid boil.
Step 4
Carry the pot of boiling water carefully to the drain and pour all of it into the drain slowly.
Step 5
Wait at least eight hours or overnight to give the ingredients time to break up the clog. Do not use the drain during this time.
Step 6
Turn on the water over the drain to rinse away any remaining salt or baking soda, and rinse the drain.
Tip
Use potholders to carry the pan of boiling water to the drain to help prevent burns.