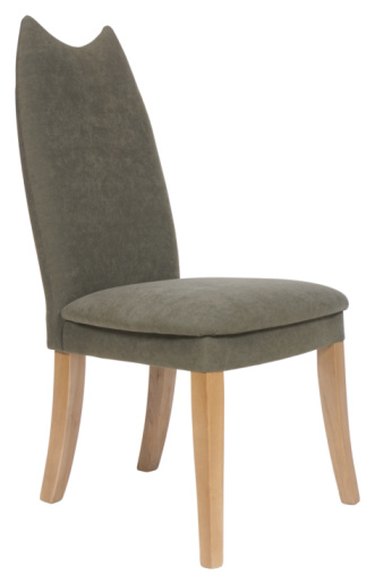 Fabric-to-wood adhesion is commonly used in furniture-making. Typically, the most effective and best-looking fabric-to-wood method is through the application of aerosol trim cement glue. This glue is extremely sticky, won't saturate surfaces, and works on all types of fabric and wood. In addition, it stays sticky forever and is effective on jobs of all sizes.
Step 1
Spray a light, even coat of adhesive over the wood. Don't let it pool up. Allow it to cure for three minutes.
Step 2
Hold the fabric up so that one end is square with one edge of the wood. Adjust the fabric so it overlaps the edge by one inch. Lay the fabric down on the wood. The fabric will instantly bond with the glue.
Step 3
Hold the fabric up with one hand as you press and smooth it into the glue with your other hand.
Step 4
Lower the fabric slowly with one hand, feeding it to your other hand to smooth and flatten as you move across the wood. If you start to get a wrinkle, pull up on the fabric gently, and then smooth it out with your other hand. Smooth and lower across the wood until the fabric is completely bonded to it.
Step 5
Trim the edges of the fabric off with scissors.
Tip
Cut your fabric at least two inches bigger than the wood. It should overlap the wood on all sides.
For best results, iron or steam out all wrinkles from your fabric beforehand.
Wear a mask and work in a well-ventilated area when using the adhesive.
This glue is easily found online or in most home improvement stores.
Popular arts and crafts applications for this method include building model ships, dollhouses and hand-made furniture.
Warning
If you get adhesive on something other than the wood, you can remove it with acetone.
Always check the nozzle of the glue to make sure it's pointing in the right direction before spraying.
Wear breathing protection when using aerosol glue.