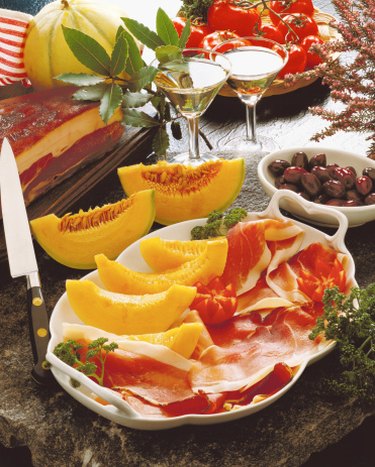 A perfectly chilled dirty martini can be complimented by a delicious selection of appetizers to please most palates. While the dirty martini has the saltiness of olive brine, slight bitterness of vermouth and smoothness of vodka or gin, it is easily paired with sweet, yet bland appetizers. Theme your appetizer to appeal to the Prohibition-era pastime of cocktails or go all out with contemporary style recipes that will compliment your preference of vodka or gin.
Step 1
Pair your appetizers in the same manner as wine. The saltiness of a dirty martini is complimented by contrasting flavors such as sweet, earthy or bland. For instance, you would not drink Chardonnay with prime rib. Thus, a dirty martini would not be complimented by citrus glazed shrimp. Dirty martinis can also be complimented by an olive appetizer with an equal flavor.
Step 2
Be simple, yet creative. Stuff celery with cream cheese, serve crostini with white bean dip or hummus, or deviled eggs. Slice honey dew or cantaloupe, drizzle with honey, sprinkle with fresh, chopped mint and serve along side slices of prosciutto. Buy large stuffed colossal olives with fillings including almonds; keep them on the bland and matching side. Otherwise, you can buy a pitter and create your own with simple recipes.
Step 3
Serve a few elaborate appetizers to offset the simple treats. Fry up olives with Gorgonzola cheese or ground beef for an Italian-style appetizer. Stuff mushrooms or zucchini with simple, earthy tastes. Stuffed with a mix of bread crumbs, chopped tomatoes and Parmesan cheese, these baked treats will compliment dirty martinis.
Step 4
Organize a cocktail party. Invite friends and ask them to bring a bottle of gin or vodka. You can provide the olive brine and appetizers. This is a great way to throw a low cost, eco-friendly party for friends and family for a fun night of trying new foods and learning how to pair. Treat the appetizers in the same manner as a wine tasting for added fun.