Things You'll Need
6 apple or cherry tree branches, 18 to 24 inches long

Stiff shop brush

Clear spray lacquer

Florist's wire

Wire cutters

1 set of LED flower lights, 20 inches long

Wrought iron chain, 24 inches long

2 wrought iron S-hooks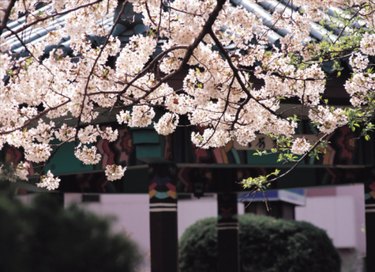 You can create a rustic light fixture out of tree branches by cutting and grouping them together to form a natural chandelier. Light the branches with battery-operated LED flower lights that can wrap around the branches to create glowing flowers. Consider using apple or cherry tree branches to simulate the effect of a blooming apple or cherry tree as a spring centerpiece in your home or cottage. Branch chandeliers also make wonderful decorative lighting for patios and outdoor entertaining spaces.
Step 1
Brush each branch thoroughly with a stiff shop brush to remove any loose bark, bugs or debris from its surface.
Step 2
Spray the branches with two to three coats of clear spray lacquer. Allow the spray to dry for at least four hours between coats. This will seal the wood and protect it from dirt or bugs.
Step 3
Lay the branches across each other diagonally so that they intersect in the center and form six arms reaching out from the center.
Step 4
Wrap florist's wire around the branches to secure them in the center. Make several passes around each branch to secure them in place.
Step 5
Twist the wire around itself to tie it off and clip it with the wire cutters.
Step 6
Randomly intertwine the floral lights around the branches to light them in an organic manner. Wrap the strand around the branches at various points throughout the arrangement to secure it in place.
Step 7
Loop an S-hook under the center of the branches and attach the other end to one end of the chain.
Step 8
Attach a second S-hook to the top end of the chain. This allows you to hang the chandelier from a hook in your ceiling or outdoor gazebo.
Tip
Mount a branch to the wall to create a wall sconce and light it the same way for a matching design element.
Warning
Wear work gloves when handling the branches and wire to avoid scratches.