Things You'll Need
Samurai Shark Knife Sharpener

Kitchen counter or table

Kitchen knife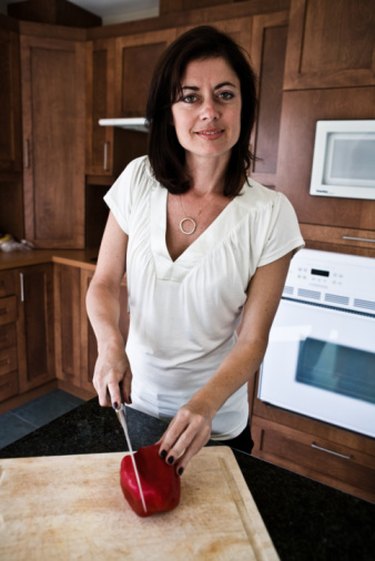 The Samurai Shark is a handheld non-mechanical sharpening tool. This tool can sharpen various kitchen knives, scissors and a variety of workshop tools. The Samurai Shark can sharpen a knife in less than a minute. A kitchen knife that is sharpened by this tool can be transformed from a dull butter knife to one that can slice a dish sponge in half. Sharpening a knife with the Samurai Shark can be done in three easy steps.
Step 1
Put the Samurai Shark on the edge of a kitchen counter or table with the metal sharpening blades facing you.
Step 2
Place your palm on the base of the Samurai Shark. Make sure that your hand is at least two inches away from the end.
Step 3
Pass the dull knife through the metal grooves three to four times. In less than a minute, your knife will be sharp again.