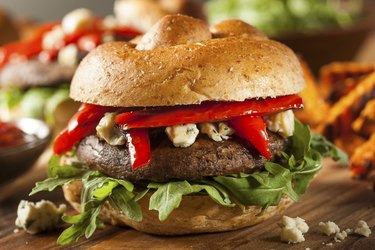 Baking portabellas, also spelled portobellos or portabellos, is an alternative way to prepare the mushrooms, without splattering cooking oil from sauteing on your stovetop. Because portabellas are simply cremini mushrooms that are 3 to 5 days past maturity, they are more flavorful than creminis themselves; during the extra growing period, the mushrooms lose moisture and their flavors become concentrated. Store portabella mushrooms in the refrigerator for up to 7 days before cooking them.
Mushroom Preparation
Wash portabellas to remove any dirt and pat them dry with a clean dish towel, then cut off the stems and save them for another use. If you plan to stuff the mushrooms, spoon out the dark gills and save them, too; to cook them as mushroom "steaks" or "burgers," leave the gills intact. Either slice the mushrooms or cut them in chunks as called for in your recipe. For all recipes, coat the mushrooms on all sides with cooking oil, salt and pepper before baking.
Additional Seasoning Ingredients
Some ingredients have a natural affinity with portabellas and work no matter what final dish you plan to make. Garlic tops the list for an ingredient that makes mushrooms taste great -- sprinkle on about 1/4 teaspoon of finely chopped garlic for each mushroom. Use the same ratio for chopped shallots. After the mushrooms finish cooking, sprinkle on about 1 teaspoon per mushroom of chopped fresh chives, parsley, thyme or tarragon. Or, let the mushrooms soak in a marinade made with equal parts wine or wine vinegar, oil, minced garlic, salt, pepper and dried herbs for about 30 minutes before cooking them.
Baking Unstuffed or Cut Mushrooms
Unstuffed portabellas, for burgers or steaks, take about 40 minutes to bake in an oven preheated to 450 degrees Fahrenheit. Set the mushrooms in a baking dish, gill side up. If the mushrooms measure about 5 or 6 inches across, they may take 5 minutes longer to become soft so that a sharp knife slips inside easily. For very small portabellas, measuring around 3-inches across, or for mushroom slices and chunks, the time decreases even more -- cook these for 25 to 30 minutes.
Baking Stuffed Mushrooms
Baking stuffed mushrooms works best as a two-part process. Preheat your oven to 400 F and cook the mushrooms with the gill side up -- leave the gills in or remove them for more stuffing space -- for about 10 minutes. Then, reduce the oven heat to 350 F, stuff the mushrooms and bake them for another 25 minutes. Stuffing mixtures might include mashed potatoes with Parmesan cheese or whole grains such as farro, brown rice or polenta with feta cheese and cooked spinach.
Mushroom Recipes
Because they have such meaty flavor -- a quality called umami that counts as a taste alongside sweet, salty and bitter -- the portabella mushrooms substitute easily for meat. Serve a mushroom "steak," complete with a pat of herbed butter melting on top and a baked potato alongside. Or turn the mushrooms into "burgers," and top them with your favorite fixings or caramelized onions and goat cheese. Add diced, baked mushrooms to pasta salad along with roasted onions and red peppers, for a filling in omelets or as an ingredient in a stew or curry dish.