Things You'll Need
Echols corn popper 490

Popcorn kernels

Popping oil

Salt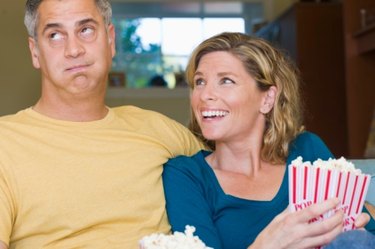 The Echols Corn Popper 490 is an old-fashioned movie theater-style popcorn maker that has been discontinued. If you're lucky enough to find a used one, you can use it to pop large batches of movie theater quality popcorn for your friends and family, which makes it a great addition to any home or business.
Step 1
Ensure that the dump lever handle is hooked behind the kettle hanger. This will ensure that the kettle is secure while the popcorn is popping, and will allow you to dump the popped kernels out of the kettle during the popping process.
Step 2
Turn on the kettle stirrer and light switches, which are both located in the top right-hand corner on the front of the Corn Popper 490.
Step 3
Add between 2 1/2 and 3 1/2 oz.of popping oil, 12 oz. of popcorn kernels, and salt to taste to the kettle. Types of popping oil that can be used include coconut oil, canola oil and peanut oil.
Step 4
Close the kettle lid. When the popcorn inside the kettle stops popping, use the dump lever handle to dump the popcorn out of the kettle. Repeat steps 1 through 4 until you have the desired amount of popcorn.
Step 5
Turn off the kettle stirrer switch (left) when you are finished popping. Leave the heat lamp switch (right) on, in order to keep the popcorn warm.