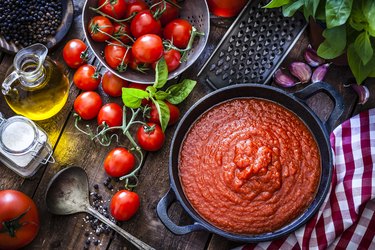 Don't confuse tomato paste with tomato sauce — paste is thicker and more concentrated, but tomato sauce is sometimes pre-seasoned and ready to mix into a plate of steaming pasta. If you want to make spaghetti sauce, but you only have tomato paste in the pantry, don't worry. It's easy to use tomato paste as a substitute for tomato sauce or canned tomatoes and turn tomato paste into tomato sauce.
A simple tomato sauce is called marinara sauce in Italian cooking, and there are lots of possible variations. All you need is the tomato paste, onion and garlic, some seasonings, and your favorite herbs and spices — fresh basil is especially delicious. Here's how to turn tomato paste into spaghetti sauce.
Total Time: 25 minutes | Prep Time: 5 minutes | Serves: 4
1 cup water
1 cup tomato paste
1 tablespoon olive oil
Pinch of sugar
1 teaspoon of salt
½-cup coarsely chopped fresh basil
1 small or 1/2 large onion, finely chopped
2 large cloves of garlic, finely chopped or minced
In a medium-sized saucepan, fry the onion and garlic in olive oil over medium heat until the onion is just translucent. Don't want to brown the ingredients; doing so gives the sauce a burnt taste, so keep a careful eye on the mixture.
Add equal parts tomato paste and water and mix with a wooden spoon until it's blended.
Bring to a gentle simmer; then add a teaspoon of salt and a pinch of sugar. Adjust these seasonings to suit your taste. A good tomato sauce shouldn't be too salty or sweet, but it should have a hint of both. Different tomato pastes have different levels of salt, so taste your sauce before adding too much seasoning.
Simmer gently for around 15 minutes or for as long as you have the patience. Rich saucy flavors take time, so don't be tempted to turn up the heat and boil the sauce too quickly. Simmer until the sauce is thick enough to coat a wooden spoon and little blobs of oil rise to the surface. If the sauce becomes too thick, add a dash of vinegar and stir through (balsamic or red wine vinegar are tastiest).
Coarsely chop a couple of handfuls of basil and stir into the sauce. Simmer for a final couple of minutes to bring out the basil flavors.
Taste test: Adjust your seasonings before turning off the heat, and you're finished.
Spoon the sauce onto a plate of freshly cooked spaghetti or fettucine, or stir it through a bowl of penne or rigatoni. Fresh pasta is always delicious when served topped with grated Parmesan, a fresh green salad and some crusty bread.
Tip
This simple tomato sauce made from tomato paste also makes a good pizza sauce. Just simmer it for a bit longer to make it a thicker consistency, and spoon onto a ready-made or home-prepared pizza base.
To make a puttanesca sauce, skip the basil in this recipe; instead, add a small tin of chopped anchovies, a half-teaspoon of chili flakes and a quarter-cup of roughly chopped black olives (such as kalamata). Add capers if desired. This pungent sauce is simple but delicious, and it has a spicy kick. Even if you don't like anchovies or fish, you might be surprised at the taste. The anchovies' strong flavor is dissolved among the other ingredients, and the sauce is less fishy and more salty with an enhanced umami flavor.
If you didn't used the entire can or bottle of tomato paste in this recipe, an easy way to store leftovers is in an ice-cube tray. You'll have small, handy servings of paste to use later.