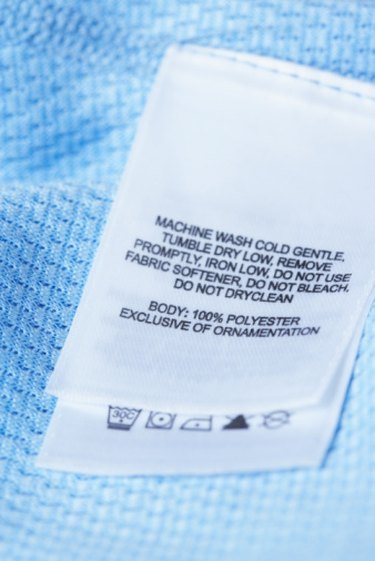 Synthetic fabrics, such as a polyester/rayon/spandex blend, require special care. Otherwise, if not treated correctly, these fabrics may shrink, lose shape or even fade in color. A blend of 60% polyester, 32% rayon and 8% spandex may be used for clothing such as maternity dresses or sports apparel, or for lingerie. This fabric stretches easily and can ensure comfort throughout the day. When cared for correctly, this fabric will not lose its shape, size or color.
Step 1
Turn the polyester/rayon/spandex item inside out, if possible. If there is a care label on this item, check it for instructions pertaining to this particular item.
Step 2
Separate your dark colors from your light colors. Determine which category this item belongs in, and prepare to wash it with these similar colors.
Step 3
Place it into a washing machine and add regular detergent, as long as it can be used with synthetics. Set the machine on a gentle cycle, and use cold water only for this wash. Do not use bleach, and do not add fabric softener.
Step 4
Dry the washed item in a dryer on a low cycle, or hang on a line to dry. Another option is to lay the clothing flat to dry. If using a dryer, remove the item immediately once it is dried to avoid wrinkling and a loss of shape.
Step 5
Check to see if the item needs to be ironed. Iron the item once it's dry, turned inside out, if necessary. Set the iron to a synthetic fabric setting, or to a low setting. If it has a decoration, iron around it.
Tip
Follow care instructions carefully to avoid damaging your item. If your machine isn't gentle enough, you can always wash by hand.
Warning
Do not dry clean polyester/rayon/spandex items.