Things You'll Need
4 tbsp. butter

Frying pan

Wooden spoon

2 tsp. lemon juice

1 tsp. ground black pepper

1/2 tsp. garlic salt

1/2 tsp. cayenne pepper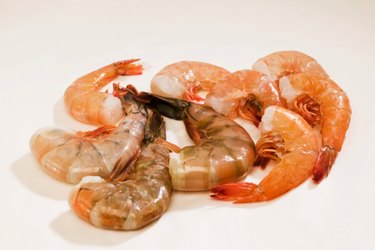 Baby shrimp are typically between 1/2 inch and 1 inch in length. The name baby shrimp is misleading, as actual juvenile shrimp are too small to yield any nutritional value. Baby shrimp is a term used to describe smaller adult shrimp. Their meat cooks quickly, but it will become rubbery if you prepare them incorrectly. To cook baby shrimp you need a few supplies and seasonings from your kitchen and approximately 10 minutes.
Step 1
Place the butter into a frying pan and melt over medium heat. When the butter has melted, add the lemon juice, black pepper, garlic salt and cayenne pepper. Swirl around in the pan to mix.
Step 2
Pour enough thawed baby shrimp into the pan to cover the bottom in an even layer.
Step 3
Stir the baby shrimp quickly with a wooden spoon, coating them in the butter mixture. Continue stirring the shrimp to prevent them from burning.
Step 4
Scoop the baby shrimp out of the pan when they turn an opaque pink color. Depending on the size of the baby shrimp, this should take between two and five minutes.
Step 5
Add a second batch of butter and seasonings to the pan if you have more baby shrimp to cook. Repeat the process and remove from the pan when they are opaque. Allow the shrimp to cool for three minutes before serving.
Tip
Use your favorite shrimp seasonings in lieu of the lemon, pepper and salt. If your preferred seasonings do not go well with the flavor of butter, substitute olive oil.