Things You'll Need
4 veal chops

2 garlic cloves, minced

1 tbsp. oregano

1 tbsp. cumin

Salt, to taste

Pepper, to taste

1 tbsp. olive oil

1/2 cup white wine

1 tsp. brown sugar

2 tsp. chili peppers, chopped

2 cups mixed vegetables, cooked

2 cups wild rice, cooked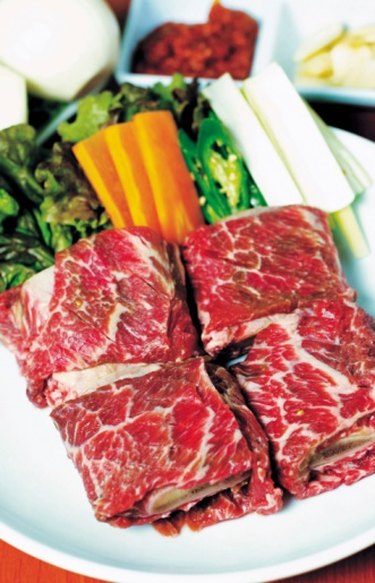 Veal is a buttery smooth meat taken from specially raised baby cows. The treatment of the baby cows used to create veal makes this one of the most controversial meats appearing on restaurant menus. Prepare veal chops by using light seasoning and a tenderizing marinade that highlight the natural aspects of the meat without overpowering it. Veal is a more expensive cut of meat, so you want to treat it right. Broil the meat to cook it without losing any of the moisture or flavor.
Step 1
Place four veal chops in a glass baking dish and season with two minced garlic cloves, 1 tbsp. oregano, 1 tbsp. cumin and salt and pepper, to taste. Set aside. Combine in a small bowl 1 tbsp. olive oil, 1/2 cup white wine, 1 tsp. brown sugar and 2 tsp. chopped chili peppers.
Step 2
Pour the liquid mixture from the small bowl over the veal chops. Cover and refrigerate overnight to marinate.
Step 3
Preheat the broiler. Place the veal chops under the broiler and cook for five minutes. Turn chops over and cook for five minutes on the other side.
Step 4
Serve while warm with mixed vegetables and wild rice.