Things You'll Need
Paper towels

2 tbsp. unsalted butter, room temperature

Fresh chopped sage or your favorite herbs

Salt and pepper to taste

Shallow roasting pan

Poultry baster

Meat thermometer

Aluminum foil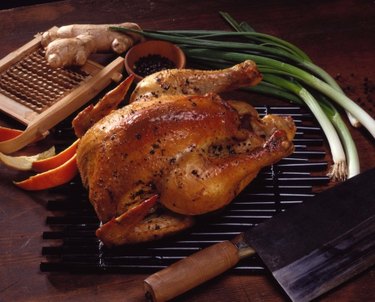 Oven-baked chicken is a classic American favorite that is versatile and easy to prepare. Americans have a voracious appetite for chicken. Bake a delicious golden brown chicken in less than two hours in your oven. Incorporate fresh ingredients and fragrant herbs to improve the taste of the chicken.
Step 1
Rinse the chicken and pat it dry with a paper towel. Using your fingers, separate the skin of the chicken from the breast.
Step 2
Fold the chopped sage or other herbs into the butter. You can use plain unsalted butter without the herb-infusion if that is your preference. Rub one tablespoon of the butter under the skin, directly onto the chicken breast. The butter will baste the tender chicken breast when you put the chicken in the oven, resulting in a very moist dish.
Step 3
Rub the remaining butter on top of the chicken - rub it in good. The fat in the butter causes the skin to turn golden brown and crispy when it bakes in the high-heat of the oven. Season the chicken with salt and pepper.
Step 4
Place the chicken, uncovered, in a shallow roasting pan and put it into a preheated 400 F oven for 15 minutes. It is the high-heat at this stage of the cooking process that enables the fat in the butter and in the chicken to begin the browning process.
Step 5
Turn the oven down to 375 Fahrenheit and continue baking the chicken until it reaches an internal temperature of 165 Fahrenheit. Depending on the size of the chicken, this should take one hour. Your chicken will turn a rich golden brown color during this time.
Tip
After the first 15 minutes, and at 30 minute intervals, baste the chicken with its own juices. This returns moisture to the baked chicken, and helps with the browning process.
Warning
Some ovens cook faster than others, so keep a watchful eye on your chicken during the baking process. If it browns too fast and you are concerned about burning it, turn the oven temperature down to 325 F and cover the chicken with aluminum foil, but only after it has browned. Once you cover the chicken, it will continue to cook but won't get any more brown.