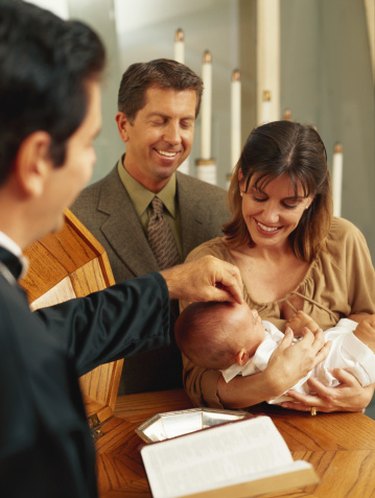 Christening ceremonies for babies are held in Catholic, Apostolic, Assyrian, Anglican, Lutheran, Presbyterian, Methodist and other churches. Christening is different from baptism in that the baby is not yet old enough to understand and profess faith in Jesus, so this baptizing or confirming comes at a later age. This ceremony must be performed by a qualified officiator from the church to which the baby and his parents belong. Making a checklist to prepare for this event can make the process smoother.
Step 1
Call and set an appointment time with your church. Arrange to have the priest or other officiator present. You may have to rehearse the ceremony once or twice before the day of the christening.
Step 2
Choose a Bible verse or passage to read at the christening of the baby. This verse may be read by the officiator, the parents, the godparents or another family member.
Step 3
Choose two godparents or guardians for your child. These godparents will be present and active in the ceremony itself.
Step 4
Choose a comfortable gown, bib and bonnet for the baby to wear on the day of the christening. If the baby is crying or otherwise uncomfortable, the beauty of the entire ceremony will be compromised.
Step 5
Go through detail registration with the officiator before the ceremony. Here, the officiator will repeat the child's name and other details to make sure there are no mistakes during the actual ceremony. At this time, the godparents may be given a baptismal candle to hold.
Step 6
Answer the officiator's ceremonial questions at the beginning of the christening. In the Christian church, these two questions are, or resemble, "What is your child's name?" and "What do you ask of God's church?" Give your child's name, then answer "Baptism" to the second question.
Step 7
Answer "yes" or "no" to all other ceremonial questions throughout the rest of the ritual. The officiator will claim the child for Christ and pour water over her head. Finally, the godparents will light their candles to symbolize the light of Christ.
Tip
There may be variations to this ceremony depending on the church you attend. Your officiator will go over the details with you.
Assign one or more family members or friends to take candid pictures as you go through the ceremony. You will want these memories later in life.