Things You'll Need
3/4 cup balsamic vinegar

1/4 cup water

2 teaspoon dried, minced onions

1 teaspoon crushed red pepper

1/2 teaspoon ground black pepper

1/4 teaspoon salt

1/4 teaspoon paprika

1/4 teaspoon dried parsley

1/4 teaspoon chili powder

1-gallon freezer bag

Four 6-ounce boneless, skinless chicken breasts

Baking pan

Cooking spray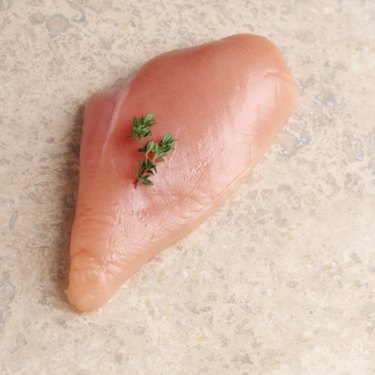 Marinades help to break down the composition of meats, allowing them to absorb more moisture so that they stay tender and juicy during baking. When you marinate chicken breasts, they also soak up the flavors from the marinade, effectively seasoning the meat. The longer you allow your chicken breasts to marinate, the more tender the meat will become. To bake marinated chicken breasts, you will need approximately five minutes for preparation and 40 minutes for cooking time.
Step 1
Combine 3/4 cup vinegar, 1/4 cup water, 2 teaspoons dried onion, 1 teaspoon crushed red pepper, 1/2 teaspoon black pepper, 1/4 teaspoon salt, 1/4 teaspoon paprika, 1/4 teaspoon parsley and 1/4 teaspoon chili powder in a freezer bag. Seal the bag and shake to mix all the ingredients. Add the chicken breasts to the marinade. Reseal the bag, and refrigerate for one to 24 hours.
Step 2
Preheat your oven to 400-degrees Fahrenheit. Coat a baking pan with a thin layer of cooking spray.
Step 3
Remove the chicken breasts from the marinade, and allow the excess marinade to drip off before placing them onto the baking pan.
Step 4
Bake the chicken breasts in the preheated oven for 40 minutes, or until the meat's juices run clear.
Step 5
Remove the chicken from the oven. Allow the meat to stand for five minutes before serving.
Tip
You can substitute this recipe with your favorite marinade without affecting cook time.