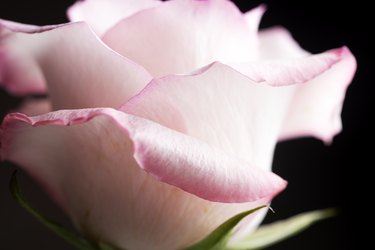 Things You'll Need
Floral foam, cone-shaped

Container

Flowers, assorted sizes and types

Greenery stems and leaves

Berries

Moss

Hot glue

Wire cutter

Floral shears

Floral pins

Floral tape

Floral picks

Floral putty
Floral arrangements add a touch of color to any home. Use cone-shaped arrangements to add a dramatic flair to mantles and tabletops. You can create stunning cone shaped floral arrangements with a variety of fresh, silk or dried flowers and various bases and cones. Most supplies are readily available at craft and floral supply stores or from your own garden. The cone shape allows you to create orderly, symmetrical arrangements or free-flowing designs.
Step 1: Choose a Vase for Your Cone Shaped Floral Arrangement
Select a base for your arrangement, such as a candlestick or floral urn. The cone shape should be approximately twice the height of the container. You can also purchase preformed cone topiaries at craft stores to elevate your cone design.
Step 2: Select the Floral Foam
Purchase appropriate floral foam. Floral foam for fresh flowers is different from the foam for silk and dried flowers. Take care to choose the appropriate type for your project.
Step 3: Secure the Floral Foam to the Base Container
Affix the floral foam cone to the base container using hot glue or floral putty. If you are using fresh flowers, choose a cone that is specific for fresh arrangements and soak the form in water before you fasten it to the container.
Step 4: Add the Moss
Cover the base of topiary shapes and open areas between the cone and container for non-topiaries with moss.
Step 5: Affix the Moss With Floral Pins
Use floral pins to secure the moss in place.
Step 6: Insert the Largest Flowers
Insert the largest flower blossoms into the foam. You can create an orderly arrangement by placing the blossoms symmetrically around the foam or a free-flowing design by scattering the flowers randomly. If any of the blossoms have weak stems, wire a floral pick to the stem and cover the wire with green floral tape before you insert it into the cone. Position the largest blossoms closer to the bottom to keep the scale appropriate. Trim the stems as necessary with wire cutters or floral shears.
Step 7: Add the Smaller Flowers Around the Large Blooms
Place the smaller flowers around the large blossoms, filling out the arrangement. You can hot-glue silk and dried flowers to the cone shape rather than inserting the stems into the foam as well.
Step 8: Fill With Pretty Decorative Materials
Fill open spaces with greenery, berries or tiny filler flowers to complete your cone shaped floral arrangement.
Tip
You can use any combination of flowers, greenery and berries that you like. You can also create single-blossom arrangements with different sizes of one type of flower, if desired.
Create formal cone arrangements by placing flowers and berries in horizontal rows around the cone. Begin with the largest flowers at the base and add smaller items as you work your way up toward the top.
Choose nontraditional items for your cone-shaped arrangements, such as lemons and limes for a kitchen design.