Things You'll Need
1 lb shelled raw almonds

1 tsp. sea salt (optional)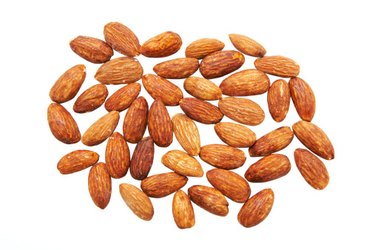 Almonds are among the healthiest nuts around, packing a powerful nutritious combination of fiber, antioxidants and healthy, monounsaturated fat. Almonds are enjoyed in a variety of ways including sprinkled over salads, ice cream, baked into cakes, pies and cookies and as a topping for savory baked dishes. Plain almonds make a healthy and filling snack. While almonds are hard and fairly crunchy on their own, they become much crunchier if you roast them in the oven.
Step 1
Preheat the oven to 350 degrees Fahrenheit.
Step 2
Place the almonds on a baking sheet in a single layer.
Step 3
Place the baking sheet in the oven and bake for 10 to 14 minutes, until the nuts are golden brown.
Step 4
Remove the almonds from the oven and sprinkle with salt. Allow them to cool for one hour before eating.
Step 5
Store in an airtight container.
Tip
You can toss the almonds with olive oil and salt before to make sure the salt sticks to the almonds.
Try sprinkling cinnamon sugar or spicy seasoning on to the almonds if you prefer.