Tattoos are a popular medium for self-expression, but most tattoos are permanent. Some people choose to draw tattoos on themselves with Sharpies or pens. However, another popular option for creating temporary body art is henna. It is believed henna tattooing has been around since 1600 B.C. It uses the henna plant to temporarily dye the skin. Creating a henna design on yourself is a challenge, but it is possible.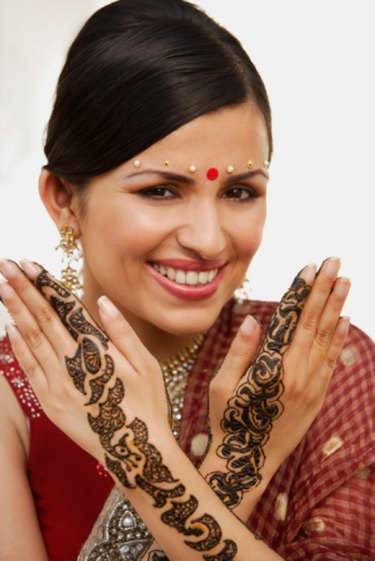 Things You'll Need
Applicators

Tattoo Transfer Sheets And/Or Stencils

Henna Dye
Step 1
Prepare the skin by using a gentle exfoliating wash followed by a thorough drying. A gentle moisturizer can help prepare the skin as well but be sure that no residue is left on the skin following moisturizing.
Step 2
Follow the directions in the henna tattoo kit you may buy online or from a local retailer. Start by preparing the cream. Some henna kits come with a premixed cream while others require preparation.
Step 3
Place the stencil and/or the tattoo transfer design on the skin.
Step 4
Use the guide to apply the henna paste to the desired areas. Be gentle and slow. Henna is not permanent, but it can stay on skin for weeks with proper care, so any mistakes will be visible for that amount of time.
Step 5
Let the paste set up for at least an hour without removing the stencil or disturbing the tattoo. This will ensure it will stay on the skin longer.
Step 6
Follow any aftercare instructions that came with the kit. Different mixtures create different strengths, but in general, washing your henna tattoo will cause it to fade faster.
Tip
Wrapping the art after it is complete can help it absorb deeper into the skin creating a longer lasting image.